15 die in Lagos inferno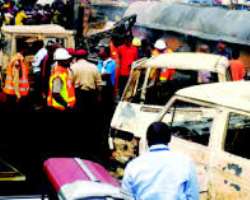 A truck laden with petrol crashed in Lagos spewing its highly inflammatory content on the vicinity.
It then caught fire, which spread like a volcano ashes.
About 15 persons were believed to have been burnt beyond recognition and many injured in the incident that occurred Tuesday night through to Wednesday.
The incident took place at the Berger area of Mile 2, Lagos State. Goods worth millions of naira were also destroyed in the inferno.
Lagos State Government officials, who were at the scene of the fire outbreak, put the figure of the dead at four, but eyewitnesses' accounts insist that at about 15 bodies were counted before Lagos State Government officials came to the scene.
The truck was said to have crashed while the driver was trying to avoid ramming into commercial buses blocking roads and picking passengers. According to eyewitnesses, the driver of the truck, his motor boy, a fruit seller at Berger Suya Bus Stop and occupants of three buses, whose drivers were picking passengers at the bus stop, were the immediate casualties of the explosion.
The fire started at about 10:30pm on Tuesday and was eventually put out around 1:30am on Wednesday by fire fighters from Capital Oil, Julius Berger Construction Company, Swift Oil, Lagos State Fire and Emergency Services, amongst others. Sterling Bank was also burnt,along with about four buildings and several vehicles were also burnt.
The inferno practically grounded commercial activities in the area, compelling commercial bus drivers to seek alternative routes to take their passengers to their destinations.
Street urchins, otherwise known as area boys, were said to have exploited the situation, as they allegedly looted the burnt bank and other offices and shops at the affected area.
The truck was said to have been fully loaded with 33,000 litres of petrol. A trader at the spare parts section of the market said that the truck was coming from Kirirkiri when it had break failure, resulting in the vehicle somersaulting.
The petrol spilled and quickly spread to where a barbecue seller was roasting his meat, leading to a massive explosion.
A shop owner, who identified himself as Okechukwu Nnamdi, said that he lost N8 million to the inferno. Some of the traders, who deal in heavy truck spare parts and industrial engine, explained that they watched helplessly as tongues of fire spread and consumed all they had in their shops.
Another trader, Bond Eze, who spoke with journalists, said he was speechless.
Eze however pleaded Governor Babatunde Raji Fashola of Lagos State not to demolish the burnt shops because of its present state.
A commercial bus driver, Muri Lawal, whose bus was destroyed in the fire, mournfully lamented: 'Where do I start from? 'How do I feed my children? 'Who will help me to send them to school? 'This bus is what had been feeding and helping these many years.'
President of Berger Business Community, Okey Udeagba, explained that traders at the markets must have lost over N100 million because they did not trade on Wednesday. Udeagba said: 'I am dumbfounded.
'This is a monumental loss. 'Government and corporate bodies should come to our aid.
'Today alone, we have lost about N100 million.' The Director, Lagos State Fire and Emergency Services, Rasak Fadipe, explained that fire fighters from Isolo, Ojo and Sari Iganmu were drafted to put out the fire.
Fadipe said: 'There was heavy spillage, which was accompanied by an explosion, which engulfed some buildings and the cluster of vehicles at the bus stop.'
Ibrahim Farinloye , the spokesperson of the National Emergency Management Agency, said that nine people died, 60 shops, 12 makeshift shops and four buildings were burnt in the inferno.