THE MEETING SOLD OUT WITHIN TWO WEEKS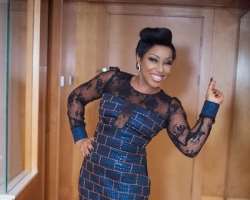 The multiple awards winning Nigerian romantic comedy, The Meeting, from the stable of The Audrey Silva Company is now out on DVD. The movie which grossed over N25 million from the cinema has now reportedly sold over 50 000 copies within two weeks of release, making the company to order for fresh copies.
The DVD release will avail all movie lovers, fans and people who did not get the chance to see the movie when it was shown in cinemas the opportunity to see the movie again.
The Meeting produced by The Audrey Silva Company, a movie production coy owned by Rita Dominic and Mildred Okwo was released January 1, and it is in almost the 36 states of the federation.
The Meetinghas enjoyed rave review and commendation from media, politicos, entertainers and even the president of Nigeria.
"This movie will be much talked about in our country and our continent in the weeks ahead" said President Goodluck Jonathan.
The romantic comedy features a mix of emerging stars and industry superstars including the delectable Rita Dominic, Tinsel star, Linda Ejiofor, Femi Jacobs and experienced thespian, Jide Kosoko. The movie also has special appearances by Kate Henshaw, Nse Ikpe Etim, Basorge Tariah Jnr and Chinedu Ikediezie.
The Meeting, directed by Mildred Okwo, produced by Rita Dominic and Mildred Okwo and superbly written by Tunde Babalola was shot in Abuja and Lagos respectively. The story follows the trials of an uptight Lagos-based corporate executive Makinde Esho (Femi Jacobs), who flies into Abuja, the capital city for a few hours, having been dispatched by his communications firm, Techmast, to secure a government authorization to build a mast sub-station from the Honourable Minister of Land Resources and Environment. There is a lot riding on this government authorization, as it will save his firm from imminent liquidation, and the Economic Financial Crimes Commission (EFCC). Mr. Esho wants only two things, keep his boss (Jide Kosoko) happy by getting the authorization from the Minister and keep his only daughter Kikelomo happy by attending her graduation ceremony at the University of Lagos.
Two very simple tasks for a professional like Mr. Esho, but watch and see what doing business in Abuja can do to you.
The movie, which brings together a stellar cast of Nollywood stars, addresses an array of contemporary issues, audiences are sure to identify with from love to African time, to the trials of tackling officials and manoeuvering red tape.
The Meeting has gathered lots of attention as it got six nominations last year in different categories at the Africa Movies Academy Awards (AMAA). The said categories include; AMAA 2013 Prized for Achievement in Costume Design, Achievement in Make-Up, Best Nigerian Film, Best Actress in Supporting Role (Linda Ejiofor), Best Actor in a Leading Role (Femi Jacobs), Best Actress in a Leading Role (Rita Dominic).
The DVD copies which are sold at an affordable price are available in stores and film houses nationwide.