INTELLIGENCE-LED POLICING, PANACEA TO CRIME PREVENTION, CONTROL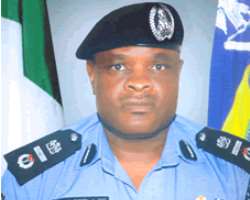 Intelligence-led policing, panacea to crime prevention, control - AIG Udah
.Urges pro-active measures
BY CHRIS ANUCHA
Thursday, March 11, 2010
Mr. Azubuko Udah
The Assistant Inspector-General of Police (AIG) for Zone 2, comprising Lagos and Ogun states, Mr. Azubuko Udah, has said that only intelligence-led policing would find solution to crimes and crisis in the country.
The AIG, told Daily Sun in his office that intelligence-led policing would create room for pre-emptive or proactive measures to nip crimes in the bud, rather than adopting reactive approach. He described intelligence-policing as the hallmark of modern policing, which as he said, would drastically reduce crime rates.
According to the police boss, intelligence-led policing emphasises partnership between the police and the public. He said: 'I have said it before that the administration of the Inspector-General of police, Mr. Ogbonna Onovo, is emphasising on intelligence-led policing. This is because, we want a situation where there will be partnership between the police and the public. Police cannot succeed without the support of members of the public.
'And officers and men themselves are being properly re-orientated to be more courteous to members of the public. So, I want a situation where this can be reciprocated. And with what is happening, you will now know the importance of taking pro-active and pre-emptive measures in terms of policing and that is what the IG is also emphasizing.'
Udah, however, urged the public to always feel free to work with the police, by giving them useful information, adding that such co-operation would help the police to protect lives and properties. He insisted that the most effective way of fighting crime is crime prevention. 'Through crime prevention, you will be able to show presence of the police everywhere. The antidote to these violent crimes is for police to be ready to rise to the challenges,' he said.
The AIG explained that violent crimes were bound to occur in high cosmopolitan zones like Zone 2 and the adjourning towns, but added that he was on top of the situation. Still soliciting public co-operation the police boss said there was the need for community policing. 'The public should take the police as their own and have confidence in them and give them information to enable them bust crimes, prevent and detect crimes,' he further said.
To be able to fight crime effectively, Udah said there was the need for Nigeria police to be properly equipped, through the provision of more patrol vehicles and communication gadgets. He also spoke on the need for officers and men to be properly motivated. 'Once this is done, the criminals will be kept at bay,' he said. On trans-border crimes, the AIG described it as touchy. He explained that as a former CP in-charge of INTERPOL and Head of INTERPOL Bureau in Nigeria, he was already aware of trans-border crimes.
He revealed that as the Head of INTERPOL Bureau in Nigeria, he was involved in a lot of trans-border control where he and the present IG attended many seminars, workshops and conferences in Togo, Ghana, Cote d'Ivoire, Benin Republic. He said the countries established West Africa police outfit and signed many agreements to find solution to crimes which occur in the borders.
'I have knowledge of what happens at the borders.
I know exactly what to do. With the co-operation that is going now, which was established then, we will be able to control it. More important is the issue of equipping those at the borders with the wherewithal to effectively police the borders, check the routs, because these are the areas where criminal escape from. Once we have enough manpower, patrol vehicles, enough border posts, of course, you know that it is not only the police, that have something to do with the border posts, we have other security agencies, we will work to synergies our efforts to control crime at the borders. If there are effective border posts or border control, criminals will not be able to escape out of Nigeria. They will confine themselves in Nigeria and they can easily be tackled,' he said.
On oil bunkering, Udah described it as a serious crime and recalled that the menace was brought under control when he was the AIG in-charge of Zone 5, Edo State and Zone 6, Calabar.
He said: 'With the amnesty and surrendering of arms by the militants and disarmament in the areas, the issue of bunkering has reduced to its barest minimum. It has reduced in Zone 6, I'm sure it has reduced in Zone 5. If it is still going on here, I will look into it and make sure that the illegal bunkerers are not allowed the lee-way to operate.'
On the 2011 elections, Udah said the police were worried about past electoral problems and that they are now prepared to tackle the problems. He expressed hope that with more manpower and effective monitoring, training and re-training, officers and men of the police force, would repeat the feat they achieved in the last Anambra gubernatorial election.
'We intent to carry on like that, and with the IG marshalling out methods of operations, the way he did in Anambra State, the politicians should now know that it is no more business as usual. They must go back to the drawing boards and be ready to carry out their campaigns. Nobody will scuttle the electoral process, and the police will ensure that the elections are conducted peacefully,' he said.
On how to check indiscipline among police officers, he explained that Nigeria police had procedures for handling issues of indiscipline, adding that indiscipline was well defined under the police regulation.
'The hallmark of Nigeria police is regimentation, that is discipline. An organization like Nigeria police, where there is no discipline, cannot make any headway. That is why we have outfits that o about checking all these things being handled very well,' he said.