Basketmouth Regrets Rape Joke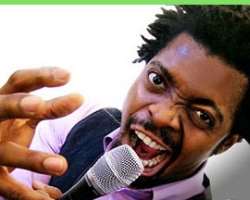 Seasoned comedian, Basketmouth has apologised for his joke on rape, which was posted on his Facebook page on Saturday. The said joke compared dates between white and black girls.
According to Basketmouth, it takes only two earlier dates to have s*x with white girls without spending much on them, while for black girls, even after having eight dates and spending huge amount of money on them for shopping and others, a man will still not be able to have s*x with them. He then wrote that the frustrated man will be left with no option than to r*pe the lady in the ninth date.
After receiving criticisms for the joke from across the continent, the comedian later posted an apology on his twitter page on Sunday. He disclosed that his joke was misunderstood and stated that he will never support r*pe.
He said, "ok guys, I'm sorry about the r*pe joke. I won't crack such jokes again.
"I have a daughter, wife, sisters and a mother I will give my life to protect. Anything done for a woman is less than they deserve for their roles in our lives.
"I would never in a thousand lifetime encourage r*pe, the joke was clearly misunderstood and have been found offensive.
"To all the women that make our lives colourful, the ones we literally owe our lives to, I apologise for the joke. It wasn't meant that way by a long shot. God bless you all."
© 2014 Nollywoodgists.com
Click the link below to go to...
Why Does Peter of P'Square Keep Impregnating Lola Omotayo?
First Photo of Peter Okoye and Lola Omotoya's Baby Girl
Peter Okoye, Lola Omotayo Welcome Baby Girl In America [Photos]
Why Does Peter of P'Square Keep Impregnating Lola Omotayo?