NORTH IS NO PARASITE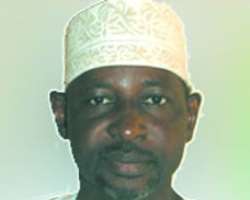 North is no parasite
-Gov Shinkafi invest N6bn in solid minerals
From ATTAHIRU AHMED, Gusau
Thursday, March 11 , 2010
Gov Shinkafi
Governor Mamuda Aliyu Shinkafi of Zamfara State has said that it is wrong to see the North as a parasite because the region produces no oil. He disclosed his state will soon start enjoying the 13 percent revenue derivation like oil-producing states in the country.
He told Daily Sun in Gusau in an interview that a Chinese solid mineral processing company has started test running in this direction that will take out the state from being a 'parasite state.' Excerpt:
PROJECTS EXECUTION
'From the inception of this administration in 2007 to date, we have built many roads and work is on-going  in many others. We commissioned the Kotarkoshi-Mada Road. Others include Katuru-Galadi-Tibiri which connects Shinkafi and Maradun local government areas. The Kaura Namoda-Birnin Magaji Road is almost completed, from Magami to Dankurmi and from  Janbako to Boko into Maradun. That road cuts across Maradun, Talata Mafara, Bakura and Zurmi local government areas and work is in progress. Similar projects are going on in other parts of the state. Hopefully, by the time they are completed, the roads network in the state will be among the best in the North West.'
GLOBAL ECONOMIC CRISIS
'You see, we started our projects as early as possible. Just a month after we took over, price of crude oil was really high and the economic meltdown has not arrived. The money we had from the federation account was well spent on a well planned blueprint we had. We know very well how hard the economic crunch has affected virtually all sectors, but we have ensured that our projects continue, even though at slower pace. If not for the economic crunch, we would have finished most of the projects before now. Also the coming of the economic crisis has forced many states to look inward  for altenative revenue to execute  projects.'
MINERAL PROCESSING FACTORY
'We are building viable industries that will  be enough to make us financially independent of the Federal Government. The solid  mineral factory  near Gusau on Zaria Road, which is nearing completion will provide employment opportunity to our teeming youths. It will also bring income amounting to billions of naira annually. We will process all types of minerals in that factory. We have the highest mineral deposit in the whole country. Right now we are test running, very soon it will be commissioned by Mr. President.'
'Even though the meltdown has slowed us down a little, we have planned long term solution by diversifying our sources of revenue to solid mineral processing factory where. We invested more than N6billion in partnership with a Chinese company. We will soon start getting 13 percent revenue derivation as our sisters are getting from the oil.  We have devised strategies to keep us going and so far, we are matching forward to get there. Count us out of the so-called parasite states.'
PDP POLICIES
'Policy-wise, the PDP has the best policies for this country. My appeal is that Nigerians should continue to be patient. I am confident that by God grace the good is coming very soon if we are patient.
'People should change their attitudes on what government should be doing for them.  They should appreciate and be development-oriented which I believed is the only way we can move forward. Let them look inward and see what they can contribute for the development of their state. We want to join hands with them to ensure we move our state forward rapidly. We have the best intention and interest of the state at heart.'