Police foil ATM robbery in Abeokuta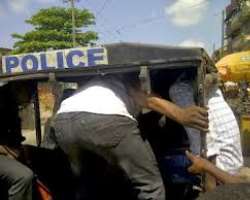 Police in Abeokuta, Ogun State capital have foiled an attempt by a five man robbery gang to rob a new generation bank located at Rounder Area of Abeokuta, the state capital while a suspect believed to be a welder has been arrested in connection with the attempted robbery, Channels Television has reported.
According to the state Police Public Relations Officer (PPRO), Mr Muyiwa Adejobi, the robbery gang arrived the premises of Crescent University in Abeokuta, where an ATM machine of the bank is located, around 1.30am to cart away money loaded in the machine.
However, a distress made to the men of Armoured Personnel Carrier (APC) and the attempt was foiled.
The robbers were said to have invaded the area with two gas cylinder containing methane, two sledge hammers, two giant chisels, a wrench lighter, screw driver and a touch light.
While alleging that an insider aided the suspected robbers, the PPPRO appealed to the management of banks in the state to clean their operations.
The command also  appealed to people who  have filling stations, cold rooms and those with big cash to be careful at this critical time of the year and relate with the local police around them to avoid being attacked by armed robbers.