Unoma Akpabio: A First Lady's Impunity?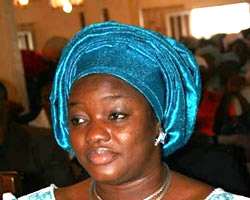 Her Excellency, Unoma Akpabio was recently reported in one of the local tabloids to have attended the Child Dedication Ceremony of one of her husband's aides. At the event which held at Insight Bible Church, Uyo, she is claimed to have made certain statements which are as undemocratic as they are inane. Apparently taking a swipe at critics of her husband's administration, she reportedly said: "… I don't have that kind of patience like my husband to take insults and abuse. Patience is something you cannot toy with, because it will explode.

If you don't like my face or his (the Governor's face), manage us until we go… If you don't like Akpabio or his style of ruling, have patience; he will soon go, so that you can come and rule. When you finish, we can compare notes…"
In the first place, the Constitution of the Federal Republic of Nigeria does not provide for (and has never provided for) the office of 'First Lady' at any level of government (Federal, State or Local). The office is a mere creation of privileged 'First Citizens' who aim to invest the credit for some humanitarian, charitable or other endeavor on their spouses; and ultimately bring them in to the public spotlight. We never heard of Mrs. Tafawa Balewa, Mrs. Murtala Muhammed, Mrs. Shehu Shagari, Mrs. Ernest Shonekan, or Mrs Abdulsalam Abubakar, at least within the context of government, (or in a public capacity); yet they existed. Mrs Akpabio's patience or lack of it therefore, is of no lawful and legal consequence to the people of a State she is not serving in any constitutionally recognized office. She is neither an elected nor appointed public official; and does not represent any constituents. Even if she was either, she would be advertising a gross ignorance of the workings of a democracy, by berating critics and opponents, when democracy requires that elected or appointed officials be accountable to their constituents; as well as be ready to face opposition and challenge. Even President Barrack Obama of the US faces scathing sustained criticism, racially motivated abuse, insults, slurs, even outright blackmail from his opponents (largely within the Republican fold). Because Obama knows that opposition is an integral aspect of any democracy, without which there would be No Democracy, he counters them with rational defense of his policies, or other subject under dispute. He never resorts to threats of ill consequences, which would earn him summary impeachment.
The question of whether or not Akwa Ibom people liked Akpabio's face (to vote for or against him in the 2011 Elections), is still the subject of litigation in the many suits filed to challenge his valid candidature in the said elections. The salient point to note is that: In a proper democracy, no elected or appointed official should query any member of the electorate for action suggestive of misgivings towards the government. Power in a democracy after-all resides with the electorate (the people); and they give it to a representative to exercise on their behalf. It is therefore the people's right to question, criticize or oppose a government which they feel is not fulfilling its obligations towards them. If notes are also to be compared, it is only the people, who can determine the performance levels of an administration, and not members of the administration.
Mrs. Akpabio reportedly went further to say: "…You cannot get to Akpabio without getting to me. If you don't praise us, we will praise ourselves. We will praise ourselves, whether Akwa Ibom people like it or not…" The last sentence smacks of insensitivity; while the general meaning conveys nothing new. What else the administration has been doing since 2007 apart from its exclusive characteristic of self adulation (or self praise)? Nobody will forget in a hurry the horde of sycophants who were employed to establish leprous fingers (like 'Akpabioism'; 'Akwa Ibom Ado Ok'; 'Etang Ekak'; etc), for the catch-phrase 'Uncommon Transformation'. So self-praise at various for a at home and abroad has been an integral aspect of the administration.
She was also reported to have made this query"… Is the Government House your birthright? You have ruled the State; another person will soon finish and another will take over. Are you the owners of Akwa Ibom State? This query was however directed to the wrong quarters. It shouldn't have been directed at critics and opponents; but would have better been directed to those who, while still in office, pre-determine who occupies political office after them; and are hell bent on installing their successors, completely unmindful of the wishes of the masses. Only a person who thinks he or she owns Akwa Ibom State would ignore the wishes of the masses, and defy the operation of democracy in a bid to select and impose on a State of about 4 million people, a successor (or candidate) of his or her choice. In other words, the person credits Akwa Ibom people with the incapacity to elect credible leaders on their own. When she reportedly also added: "… I don't know where it (the Governorship) is going to, but I know it is going to Eket Senatorial District. All the women are following me and I am following the Governor…" she made a laughable assertion. Which women are following her? By the assertion, it is clearly evident that Her Excellency has not gone into the markets, streets and homes to interact with women and hear what they say about the government and it's Uncommon Transformation. Her final warning also: "… Be at peace with yourself; be at peace with your neighbor and with the Governor, and all will be well…" could be interpreted as a veiled threat indicating that "If you are not at peace with the Governor, then all will not be well". Is this an order to be obeyed at the cost of some unsavory future consequence for the opposition? How would any rational human being expect family members, relatives, friends and associates of the many who have been abused, kidnapped, wrongfully detained, murdered, and otherwise persecuted to be at peace? No way, Ma'am. Persecuted people anywhere will pray for respite from persecution and punishment for their persecutor. They will be ready to queue at the polls and vote against the interests of whoever they consider their persecutor. They will join hands to consign the legacy of their persecutor to perpetual infamy. This is an incontestable fact.
Mma, ukemeke idoro ke onyong ekom nta ekom. You cannot speak in such disrespectful light to the people of Akwa Ibom State; a people whose money you have benefited more from, than from that of your own State. If you consider the fact that you have no constitutional office, no constituents, and that you are neither elected nor appointed, then you would not crisscross borders and step into turf which belongs exclusively to your husband. It is him we have business with (because he governs us), and not you. If you also consider that you are only an Akwa Ibomite by virtue of marriage to a First Citizen, then common sense would advise you to accord the citizens of the State the dignity they deserve.
Your statements above serve to advertise the corrupting influence of power and the absolutely corrupting influence of absolute power. As for who succeeds your husband in 2015; this is the exclusive preserve of Akwa Ibomites and their God. This time around God's decision and not Godswill, will produce a Governor for the State. This time around also, God's will, will work counter to Godswill's.
EKAETTE UNOMA AKPABIO
Disclaimer:

"The views/contents expressed in this article are the sole responsibility of the author(s) and do not necessarily reflect those of The Nigerian Voice. The Nigerian Voice will not be responsible or liable for any inaccurate or incorrect statements contained in this article."