Let's Think & Talk With Prof, Alex O.A. Akpodiete: MANDELA'S DASH: MADIBACY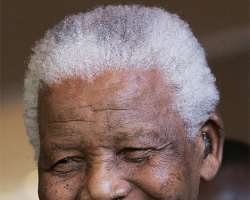 About fourteen (14) months ago, I coined the word madibacy to refer to the legacy left by Nelson Mandela that we can emulate. I used it in an article called "MADIBACY & OBAMACY: LEADERSHIP LESSONS." At that time, Mandela was ill.
Last Thursday, December 5, 2013, Nelson Mandela passed away at age 95, after a long battle with prostate cancer. No one will deny that he has made history and set clear leadership examples. This week, he will receive not just a State burial, but an international one that will be attended by leaders around the world. From the moment his death was announced, emblazonments flowed globally, with people from all walks of life extolling his many virtues. The man was a father to many and grandfather also.
Nelson Rolihlahla Mandela was born on 18 July 1918. He is sometime referred to as Madiba, which is his traditional Xhosa name. A lawyer and political activists under ANC, he was sentenced to life imprisonment on 12 June 1964 (had been n prison since 1962), but came out in 1991 and was sworn in as president of South Africa in 1994 (over 30 yrs. later). Interestingly, enough, he refused to run for a second term and chose instead to give the younger people a chance. Every year during his birthday, millions of people around the world, come out to celebrate a true leader. Nelson Mandela goes down as the first black President of South Africa.
Mandela says that "It is better to lead from behind and to put others in front, especially when you celebrate victory when nice things occur. You take the front line when there is danger. Then people will appreciate your leadership." We can learn a lot from this great man.
I mentioned in the past about a training series I conduct for leaders entitled "Leadership Principles & Qualities" taken from the Biblical Book of Nehemiah. I called these Principles & Qualities "PQs." There are 17 PQs that we teach, but a few are also mentioned in my book "The Seven Open Secrets of Success" which is available from amazon.com. I have used a few to describe the four (4) leadership legacies of Mandela.
First legacy (PQ1) is the value of good Education; Mandela said "Education is the most powerful weapon which you can use to change the world."
Second legacy (PQ2) is to engage yourself in an altruistic cause greater than yourself that you are willing to die for. Mandela won the Nobel Peace Prize in 1993. At his trial on April 20, 1964, Mandela is quoted as saying: "During my lifetime I have dedicated myself to the struggle of the African people. I have fought against white domination, and I have fought against black domination. I have cherished the ideal of a democratic and free society in which all persons live together in harmony and with equal opportunities. It is an ideal which I hope to live for and to achieve. But if needs be, it is an ideal for which I am prepared to die." So a second PQ of leaders is that he is concerned about others, including justice and fairness.
Another PQ (#3) legacy is that you should dream big because "there is no passion to be found playing small - in settling for a life that is less than the one you are capable of living. " Use your time wisely and realize that the time is always ripe to do the right thing. Start planning now because as Mandela says, "when the water starts boiling it is foolish to turn off the heat. " We must all realize that "There is no easy walk to freedom anywhere, and many of us will have to pass through the valley of the shadow of death again and again before we reach the mountaintop of our desires."
A final PQ legacy (#4) is that a leader knows when to bow out and hand over. Leaders can pick their successor or allow for a natural process. Nehemiah did this exact thing as Elijah did with Elisha. African leaders need to learn this lesson well and not insist on staying in power forever or trying to change the constitution to perpetuate their tenure. Mandela voluntarily gave up power and chose not to run for another term, even though he was clearly entitled to contest election again.
On Facebook, someone asked whether any Nigerian leader could emulate two of Mandela's characteristics? The first was related to the above point and the second was that Mandela did not retaliate against his political enemies. He returned good for evil like the biblical Joseph did to his 10 traitor brothers. This will be considered an anomaly in today's Nigeria where we are quick to command Holy Ghost fire to consume our real and perceived enemies.
I recall with fond memories of the 1980s, when I was a young international student in America, engaging in protests against apartheid. One of the chief cornerstones of the protests/debates was the "free Nelson Mandela" mantra. Upon freedom, Mandela did not disappoint us with the way he lived his post-incarceration life.
The period between when you are born and when you die is called the "DASH." It is what you will be remembered for. Some people die and others rejoice, instead of mourning because they are happy to say "good ridings to bad rubbish." It is all a matter of legacy. DASH is a combination of your Deeds, Attitudes, and Service to Humanity.
There is this short story of a lady in Joppa named Dorcas (Tabitha) that women mourned her death because of her largess. Her story was so moving that the Apostle Peter was moved to pray for her and she was raised from the dead.
What will you be remembered for when you die? What will be your legacy? It is never too late to start living right so that you can leave a great legacy.
Disclaimer:

"The views/contents expressed in this article are the sole responsibility of the author(s) and do not necessarily reflect those of The Nigerian Voice. The Nigerian Voice will not be responsible or liable for any inaccurate or incorrect statements contained in this article."
Articles by Prof. Alex O. Atawa Akpodiete, Esq.