Why Omoyeni Should Be The Governor Of Ekiti State 2014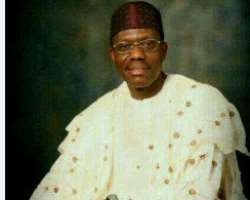 There is a man with the touch of liberty, an elite of proven worth's and achievements, a magnet of unity and oneness, an ambassador of hope and renewal, Mr Bisi Omoyeni, former Group Managing Director/Chief Executive Officer of WEMA Bank Plc and former Deputy Governor of Ekiti state.

This short piece is about our man who is rooted with a doubtless international repute, does not contain ornamental pages of epistles but a chronicle of some candid facts that will assist your sense of judgment when it comes to choose the Governor of Ekiti state in the next gubernatorial election.
One of the outstanding Virtues Omoyeni is known for is patriotism. His love for Ekiti and Ekiti people is priceless. He has the passion of developing minors into broadband men of global class. Testimonies abound across the 16 local government of Ekiti state about the unprecedented facilitation of the employment of over 700 Ekiti youths into the banking and other key sectors of the Nigeria economy. Most of these beneficiaries have developed into moguls of their worlds and have become men of influence and affluence.
In addition to the special consideration for Ekiti Indigenes who seek employment, he also ensured that top management of the bank were Ekiti indigenes namely: General Manager/Chief Executive Officers of subsidiaries like Wema Securities & Finance Plc and Wema Homes Ltd, Group Head of Resource Management & Services(i. e. Personnel & Administration) as well as the Treasurer of the bank, among others.
One good turn deserves another. What a rare patriot. While some other Ekitis who occupied such sensitive positions are there for their personal gains, Omoyeni was concerned and concentrated on human development from Ekiti. He deserves to be supported.
This is the good news for the Ekiti state civil servants. It was during the tenure of Omoyeni as both Executive Director Resource Management & Services as well as GMD/CEO of WEMA Bank, that's Salaries of Staff were increased as high as 350%. Furthermore, as the GMD/CEO, Housing, Car and all other Staff loans were available to all staff even to the cadre of junior staff without hassle.
Also all other entitlements, packages, allowances, bonuses and emoluments were paid as when due. He was the one that set up and managed the Staff Pension & Retirement Scheme of the Bank from 1987 to 2008. Besides, Omoyeni was once a civil servant in Ekiti. He was an untrained teacher in Ise Ekiti between 1975 and 1976 as well as a professionally qualified and trained teacher in Ilawe Ekiti between 1977 and 1979. In 1985 he was a Lecturer at the prestigious Polytechnic Ibadan. He understands your challenges and plight. He has a natural love for his staff. He is the answer to your needs.
Furthermore, many major towns in Ekiti State have branches of WEMA bank via our illustrious son, Bisi Omoyeni. This feat has positively affected business and economic growth in all Ekiti towns and villages. The Health Centre at the old garage in Ado Ekiti, the beautification of Adekunle Fajuyi Round About in Ado Ekiti, construction of a four story building besides Island club in Ado Ekiti and increasing the number of the bank branches to three in Ado Ekiti are some of the developments he brought to our State capital. He also facilitated the appointment of an Ado indigenes as the Chairman of Odu'a Group of Companies. What a patriot!
Omoyeni has assisted in facilitating grants and bank facilities to all past governments in Ekiti State since 1999 for economy and infrastructural developments. What a feat! What a legend! This is patriotism per excellence and unalloyed love for Ekiti State.
Omoyeni is a cistern of intellectualism distinction, pragmatism, experience and our proud son with an enviable sound pedigree. He was promoted twelve(12) times in Thirteen(13) years,a record that is very difficult to beat in the history of Banking in Nigeria. We need a man who can make the difference. A man to take our dear State to the height it has not attained since it's creation. Bisi Omoyeni did it in WEMA bank. He took the bank through the consolidation era within 18 days to beat the 1st January 2006 CBN deadline, a job the precious management of the bank could not do for more than a year. We really need this man to transform this state.
Beware of some noise makers, opportunists and ephemeral warriors who fail to remember Ekiti state during the past journey of their career, but now suddenly wake up in a movement intended to become governor and expect the support of Ekiti people while they fail to prove their sincere love for our dear state when they had the opportunity. Candid, let us be vigilant and watchful for this entity who has put this state into huge amount of debt. They have mortgaged the future of this state to borrow money under the pretext of development and changes but the said money were used to upgrade their individual status.
In conclusion, one of the lexicons that have been politicized over the year is the compound noun, "home-based". To the discerning mind, to be home based is to have home impacts, habitats among the people and share in their feelings. So an home based man is not a man who shut and open his door in a particular city every day, a lovely hero whose voice does not go beyond his roof but a man who open his door day and night and allow the citizens to boundlessly fetch from his well of opportunities.
Ekiti people need a leader who is not estranged to the people and their geographies. A man who sees beyond the wealth of the state, so that world bodies and organization could be brought in to assist in the development of the state. These are the qualities Bisi Omoyeni possess - a well integrated leader at home with international influence and exposures. This is what Ekiti deserves. This is what Bisi Omoyeni stands for.
We, therefore present before you, this humble, thorough breed professional, a man of immense experience, an home – based politician, a leader with international exposure, a man born in the heartbeats of Ekiti state, a lover of the elites, a father for the youths, a friend of the commoners.
A support for Bisi Omoyeni is a support for Ekiti progress.

Produced by Movement For Good Governance - Ekiti Chapter.
Join and contact us at:
Email:[email protected]
Tel:+234 803 958 1730
+234 817 446 4284
+234 803 354 6732