ASUU demands trial of Gov Wada, aides over Iyayi's death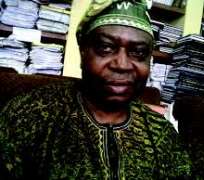 The  ACADEMIC Staff Union of Universities (ASUU), University of Benin chapter is demanding that  Kogi State governor, Alhaji Idris Wada,  and all those involved in the accident that claimed life of  Prof. Festus Iyayi  should be made to face trial.
Iyayi, a former ASUU President was killed in a motor accident involving the convoy of Gov Wada, while on his way to attend the national executive committee meeting of the lecturers' union that was to consider the call off the strike by university lecturers that is on its fifth month .The ghastly accident occured on November 12 along the Lokoja - Benin road.
ASUU said that at the appropriate time, ASUU and the Iyayi family will demand concrete answers from the Kogi State government for his murder.
In its first official reaction to the death of late Prof.Iyayi, the UNIBEN ASUU alleged that 'Prof. Festus Iyayi did not just die in an accident but that he was willfully murdered by the state and its agents'
According to a statement by the ASUU chapter,   'Nigerians are aware of the recklessness of political officeholders and their aides and in particular of Alhaji Idris Wada on our roads and the arrogance that goes with it. It is time that Nigerians should rose up to curb these menace and put a stop to the lawlessness, recklessness and impunity of our leaders.' The statement was signed by the chapter's Chairman, Dr. Anthony Monye-Emina and Secretary, Okeri Henry Esq.
While insisting that ASUU and the family of the late Professor of Economics were capable of giving him a befitting burial that he deserves, the union said that it did not   want any state interference in his burial.
'His burial should not be an avenue for government officials to score cheap political points as it will resist any state involvement in the burial,' he said.
The union said it was aware of deliberate steps being taken by the Kogi State government and its agents to distort the facts of the accident as it happened.
'This started with the reckless and irresponsible press statement that was issued by the Kogi State Government to try to explain away the killing of Prof. Festus Iyayi, and there are further attempts to conceal and distort available evidence. We shall of course meet them with facts', the statement said.