Jega's INEC Has Failed In Anambra—Says HURIWA TCN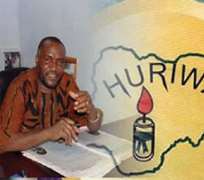 Two democracy inclined Non –governmental organizations-HUMAN RIGHTS WRITERS ASSOCIATION OF NIGERIA (HURIWA) and the Transparency center Network (TCN) have jointly asked the chairman of the Independent National Electoral Commission (INEC)-Professor Attahiru Muhammadu Jega to apologize publicly to Nigerians globally for the apparent failure and administrative flaws that marred the November 16th 2013 governorship poll in Anambra State.

The democracy focused and development oriented groups also tasked the hierarchy of the electoral body to name, shame and prosecute all the electoral officials that in one way or the other colluded with reactionary political forces to undermine the transparent conduct of the bungled election which was declared inconclusive. The groups said the bulk of blame and responsibility lies with INEC which is constitutionally empowered to conduct free, fair and transparent elections nationally
In a statement, Comrade Emmanuel Onwubiko National coordinator of the Human Rights Writers Association of Nigeria [HURIWA] who served as deputy chief of mission for Transparency center Network (TCN)-an officially accredited election observer to the Anambra election and also the National Director of Media Affairs of the Human Rights Writers' Association of Nigeria Miss Zainab Yusuf said the failure of INEC in Anambra is an unfortunate foretaste of what may happen in 2015 elections unless and except comprehensive reforms are executed in INEC by the National Assembly to make it transparent, accountable, effective and efficient.
"We write in our capacity as partners in the election observation during the Anambra governorship poll under the banner of Transparency center Network which invited us-HUMAN RIGHTS WRITERS' ASSOCIATION of Nigeria to assist with the national assignment of observing that election.
Regrettably, the conduct of that election was a huge disappointment despite several years of preparation and the huge financial resources committed to it. The conduct of the poll was marred by a number of impediments including but not limited to the criminal shortage of electoral sensitive materials and the inexplicable tampering with voters register in which case a lot of citizens duly registered by the electoral commission were denied their constitutionally protected human rights to civil and political freedoms".
The groups asked INEC to ensure that the supplementary election is conducted without waste of further time.
"We are saddened that the electoral commission has once more demonstrated to the world that the relics of inefficiency and corruption that are deeply entrenched in INEC long before the current leadership was appointment have even assumed wider dimension and if these gaps are not quickly fixed, the 2015 election could precipitate major national conflagrations if same administrative flaws seen in Anambra on November 16th 2013 are repeated on national scale".
The groups said the sentiments expressed almost by all the political parties unhappy with the ways and manners the Election was conducted were right on point regarding their opposition to the outcome and ways the poll was conducted but the groups urged that only legitimate and lawful steps be taken to redress all anomalies witnessed.
The groups also criticized INEC for failing to pay both the police operatives on election duties and some members of the National Youth Service Corps deployed for the poll just it canvassed that officials indicted for administrative blunders to be identified and prosecuted.