Cholera Persists In Lagos State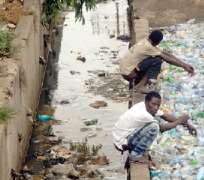 The Lagos State PDP has cautioned the Lagos State Government to stop making false claims and turning around to lay blames at the door step of innocent residents of Lagos state but rather it should do the needful as at when due.
This is as the party has also demanded Compensation for victims of government negligence, especially aftermath of the Cholera outbreak in the state.
The party's caution is on the heels of the reported cases of Cholera outbreak in the state which has led to the death of at least five persons and many others hospitalised.
The party opines that the state Government rather than do the needful to halt the incidence, has instead opted to play politics and downplay the enormity of the health issue, all in a bid to feign performance and development in the State.
The Lagos State PDP particularly berated the health ministry for intimidating "residents not to report all cases as Cholera cases". The party wonders whether such gesture was proper at this critical period that the ministry should beg for information to save lives. "At this critical period, all reports must be accommodated and Doctors can now diagnose and distinguish the diseases"
The lagos State PDP identifies one of the many inadequacies of the state Government in providing clean environment for lagos residents "as the Olusosun dump site at Ojota. "That dump site ought not to be there. It is an eyesore and can as well lead to epidemic any moment from now. We wonder why such dump site should be allowed in a City and even very close to the governor's Office. It suggests that an Official in the State Government must have business interest in the Dump site"
Meanwhile, the Lagos state PDP has urged residents in the State to be proactive and learn to provide defensive services for themselves in view of the recent failures of the various State Government Emergency outfits from nipping in the bud disasters. "This has thus confirmed that the State government is only paying lip service to the welfare of residents as indeed all its emergency departments have become moribund and or lackadaisical"
Signed:
TAOFIK GANI
Lagos PDP