Broadcaster Turned Singer, Tito Da Fire Marries Heartthrob In Lagos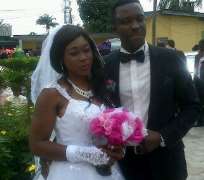 Popular radio presenter turned singer, Tito Da Fire has finally married his heartthrob in Lagos. The Maje Kaja crooner tied the knots with his wife, identified as Ify, yesterday at the Ikoyi Marriage Registry.
The event was attended by some of his family members in the broadcasting industry as well as others.
The handsome singer, though has not been able to break into the mainstream cadre, despite having the media in his hands, he is said to be doing fine in his own way. He is said to be very busy anchoring some big shows, which pay his bills.