Nigeria not bankrupt but needs cash - DG Budget, Accountant General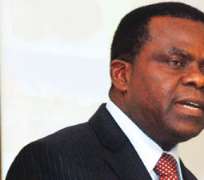 The Director-General of Budget Office of the Federation, Dr. Bright Okogu, and  the Accountant- General of the Federation, Mr. Jonah Otunla, said on Tuesday that Nigeria was not bankrupt but was presently in need of cash to run its affairs.
Okogwu and Otunla said this when they appeared before the Senate and House of Representatives Joint Committee on Appropriation and Finance  during consideration of the 2012-2014 Medium Term Expenditure Framework.
The MTEF was forwarded to the National Assembly by President Goodluck Jonathan preparatory to the 2014 budget presentation in November. The committee  is headed by Senator Ahmed Makarfi.
Responding to a question  from a member of the committee,  Mr. Opeyemi Bamidele, on the insinuations that the country was broke, Otunla said, 'Nigeria is not broke but it's currently having cash flow problems.'
Also Okogwu said though, 'the nation is currently experiencing cash flow problems from time to time; it does not suggest that it is broke.
'Nigeria is not broke. We may have cash flow problem. But countries like Greek and Spain are broke. They are now approaching their international neighbours for bail out, but Nigeria has not done that and are nowhere near that situation.'
The Central Bank Deputy Governor, Mrs. Maria Alade, who represented the CBN Governor, Lamido Sanusi, at the joint sitting was, however, evasive when she was asked the same question.
She said, 'Since the AGF and the DG Budget, have answered that Nigeria is not broke, that was also the position of the CBN.
'As bankers of the Federal Government, it is not our duty to tell the nation whether it is broke or not, but we can tell her the amount it has in accounts at anytime. But since the AGF and the DG, Budget have clearly declared that Nigeria is not broke, we in CBN also believe so.'