Beverly Osu Finally Learns Her Lesson From Relationsh​ip With Angelo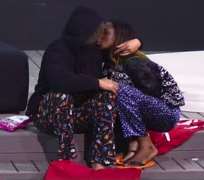 Beverly Osu of the Big Brother house was on the reality show, but Dear Beverly thought she found love at last as she went into a relationship with Angelo, They were lovers in the Big Brother house (BBA-The Chase), soon after the reality show was over, they hardly talked.
Few weeks ago it was reported that Angelo has gone back to his former lover and their pictures were all over, Even Angelo was almost forced to come to Nigeria to attend her birthday, though he came, another male contestant was more visible with Beverly than her supposed boyfriend, Angelo himself.
But it seems now, it's finally over, and Beverly has already learnt her lessons. Check out her tweets below
>

© 2013 Nollywoodgists.com
Click the link below to go to...
Dillish' Father Appears From Nowhere After She Won BBA's $300,000
Dillish Wins BBA The Chase $300,000 Prize
Melvin and Beverly Osu Evicted From Big Brother The Chase #BBATHECHASE
BBA Host, IK Osakioduwa's Wife Blasts Beverly Osu Over Comments On Hubby
Who Will Win BBA The Chase? Vote Now!
AfroCandy Insulted Me With Her Statement- Uche Ogbodo
Afrocandy To Cast Uche Obodo, Cossy Orjiakor, Anita Joseph In An immoral Movie
DNA Test Revealed That Am Not The Biological Father Of Her Second Daughter, Afrocandy's Ex-Husband Revealed
Igbo Actress, Uche Obodo, Craves For Attention, Wishes To Act Unclad