GOV OBI PUSHING EDUCATION TO A GREATER HEIGHT AGAIN WITH EXTRA FUNDING OF 10 MILLION EACH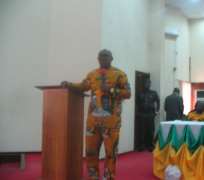 Gov. Obi Commences Distribution of Cheques of N2.54B to Public Secondary Schools Gov. Peter Obi yesterday at the Women Development Centre, Awka,
flagged off the distribution of N10 Million Naira each to all the public secondary schools in the State for the rebuilding of infrastructure. He had earlier given N20M to Churches for their own schools returned to them. 100 schools received their own money yesterday, while the remaining schools will get their before the end of the month. This was coming on the heels of the presentation of 1.5 Billion to the Churches for the rehabilitation of primary schools returned to them as well as 2 Billion Naira for Government owned primary schools. The Governor explained that the efforts are part of activities lined up to give the final push to the realization of the Millennium Development goals. Governor Obi restated that his administration has not borrowed a kobo since inception but the State has remained financially stable with huge tempo of development because of goodwill and collaboration with donor agencies and development partners. He recalled that in spite the fact that the State did not participate in the MDGs programme in the first eight years the State has recorded commendable successes by fast tracking the implementation of the programme and become one of the first six best rated states. The Commissioner for Economic Planning and Budget and Chairman State MDGs Implementation Committee, Professor Stella Okunna noted that Governor Obi administration has maintained high tempo of work in all sectors to deliver more democracy dividends in line with its drive to achieve the MDGs and disclosed that a UN delegation would soon visit the State to inspect the MDGs projects. She expressed satisfaction that government huge investment on the Education Sector has transformed Schools and students and pave way for excellencies. The Chairman, House of Assembly Committee Chairman on Education, Mrs. Rita Mmaduabu urged school managements to justify the confidence repose in them as the committee would come on oversight functions to inspect the projects. Earlier the Commissioner for Education, Dr. Mrs. Uju Okeke enjoined the benefiting schools to adhere strictly to the implementation guidelines and maintain records of site meeting and other transactions in line with public service expenditure conditionalities. She urged all interested qualified candidates to participate on the going recruitment exercise of five thousand teachers as every community would benefit.