PDP CRISIS: Baraje, Tukur Camps Clash In Senate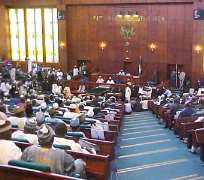 Barely a week after a similar clash at the House of Representatives, supporters of the main Peoples Democratic Party and those of the Kawu Baraje-led faction of the party clashed again at the Senate on Wednesday.
A timely intervention by Senate President, David Mark however saved a crisis situation on the floor of the senate when members were making their contributions on a motion on the demise of late former Ondo State governor, Dr. Olusegun Agagu.
Trouble started when a former governor of Gombe State, Danjuma Goje, representing Gombe Central Senatorial district, while extolling Agagu's virtues, described himself as a member of the New PDP with Alhaji Kawu Baraje as the National Chairman.
The Senator representing Kogi West, Smart Adeyemi, immediately raised a point of order which was granted by the Senate President.
Adeyemi argued that Goje had ran foul of the order 53 of the Senate Standing Rule, by "using offensive language against the party on whose platform he was elected as a senator" and asked Mark to caution him.
The debate was nearly hijacked by members of the main opposition party in the senate, the All Progressive Party, who shouted at Adeyemi while he was making his submissions.
Goje insisted that he was a founding member of the party while Smart joined some years after.
Supporters of the New PDP and some APC members in the Senate shouted at Adeyemi.
However, Adeyemi said, "Anyone who is not happy with his or her membership of the PDP should better defect to another party.
"They cannot remain in the PDP and be creating crisis"
Mark immediately intervened and remarked that the PDP remained a strong, united party, to which Goje belonged even if he claimed that he had a different chairman.
He said, "The PDP remained a strong united party and Goje has not said he is not a member. He only said someone else is the chairman of the party which he recognises. We are distinguished senators, do not let us turn our chamber into a market place over a small issue."