MEDICAL REPORT: DOCTORS RUBBISH YAR'ADUA'S PHYSICIAN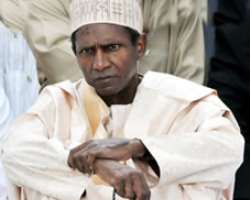 Medical report: Doctors rubbish Yar'Adua's physician
By AZOMA CHIKWE
Wednesday, March 3 , 2010
Doctors across the nation have described as a grand deceit the medical report on ailing President Umaru Yar'Adua by his personal physician sent to the Acting President on February 19 before the president was flown back home last Wednesday.
Experts who spoke with Daily Sun argued that the report cannot represent the true state of the president's health but instead a lie fabricated for political reasons
In the said report, the Chief Physician to the president, Dr Salisu A.B. Banye, had stated that the president has been receiving treatment for his pericaditis with a remarkable improvement 'since our arrival in Jeddah on 23rd November, 2009.
'He has however been confirmed by a team of medical specialists to have developed episodes of chest infections that necessitated his isolation and intensive therapy.'
Referring to the sentence, 'he has however been confirmed by a team of medical specialists to have developed episodes of chest infections,' medical experts noted that the chief physician to the President wrote a medical report based on hearsay, saying that he has probably not seen the president.
In his reaction, Consultant Surgeon, Dr Emmanuel Enabulele said the report was not a medical report but an insult to medical profession. 'Even a third year medical student can do better,' he said.
Enabulele argued that if you want to write a medical report of a man of President Yar'Adua's stature, you use his case note, state investigations you have made, write a summary of what has been happening to the president.
'This is an insult to the medical profession, writing a presidential medical report in a sentence,' he said.
The surgeon said the doctor handling his case in Saudi Arabia should be professional enough to have sent down his case file starting from the day he arrived in Saudi. 'The medical report should contain documented clinical state in which he arrived in Saudi, the investigations done, the treatment given and the clinical progress of the patient.
'The medical report should also contain the complications that developed thereafter, and the interventions made should also be documented. All these should be in both hard and software for a man of his stature.'
Enabulele noted that anybody could have written that medical report. 'What he wrote there is what, we heard three months ago. The president did not go to Saudi in an ambulance, so why is he coming back with an ambulance and life support? All that should have been documented day by day,' he said.
Contributing, a consultant in chest diseases, Department of Medicine, College of Medicine, Lagos University Teaching Hospital (LUTH), Idi-Araba queried 'if the President has chest infection, what type of chest infection is it? What organism is causing the infection? Even if he has tuberculosis people should see him. There are various chest infections, but most chest infections are not that fatal to require quarantine. The whole essence of quarantine is preventing spread.
'If it is too bad, people can wear a face mask to go and see him. Medicine is so straight forward and so scientific. They know the game they are playing. There is no patient that people cannot see, even those in the theatre, at worst you wear theatre gown and a face mask. Why can't the Acting President, Goodluck Jonathan see him? Let them allow the Federal Executive Council to see him. Maybe, the man is in coma. They are trying to fool us, but they can't get away with it,' he said.