Obasanjo: Nigeria Is Jinxed, Cursed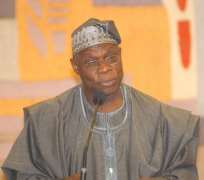 Former Nigerian President, Chief Olusegun Obasanjo, has said the country may have been cursed with poor and irresponsible leaders. Obasanjo, who disclosed this Tuesday in a keynote address at the fourth annual Ibadan Sustainable Development Summit organised by the Centre for Sustainable Development, University of Ibadan, in collaboration with African Sustainable Development Network, said if Nigerians were yet to commend a leader after 53 years of independence, "then we are jinxed and cursed; we should all go to hell."
The former president, while reviewing Nigeria's history since independence, also condemned the younger generation of leaders in the country, saying they lacked integrity and probity and have failed their people woefully.
Making specific reference to his vice-president for eight years, Atiku Abubakar, former governor of Lagos State, Bola Tinubu, former Speaker, House of Representatives, Salisu Buhari; former Bayelsa State Governor, Deprieye Alamieyeseigha; and others as younger generation of leaders, Obasanjo said Nigeria was not lucky even with them.
"We had some people who were under 50 years in leadership positions. One of them was James Ibori, where is he today? One of them was Alamieyeseigha, where is he today? Lucky Igbinedion, where is he today?
"The youngest was the Speaker, (Salisu) Buhari; you can still recall what happened to him. You said Bola Tinubu is your master. What Buhari did was not anything worse than what Tinubu did.
"We got them impeached. But in this part of the world, some people covered up the other man. The man claimed he went to Government College, Ibadan but the governor (Oyo State) went to Government College and packed all the documents so that they would not know that he did not go there.
"I wanted someone who would succeed me, so I took Atiku. Within a year, I started seeing the type of man Atiku is. And you want me to get him there?
"I once went to Tanzania because Julius Nyerere recognised Biafra. He told me not to mind his aides and others in government. They would say they have one house in town but their five-year-old sons and daughters would have houses all over.
"Some of you who are condemning the leadership would get there tomorrow and it will be a different story. Only very few are actually good.
"Abacha, my predecessor got $750 million. Through our lawyer in Switzerland, we recovered $1.25 billion and the lawyer still said there is probably still another $1 billion to be recovered. In 1979, we had 20 new ships specially built for Nigeria. When I came back 20 years after, the national shipping line had liquidated.
"The whole thing is not just about leadership. If we talk about good leadership, you should also talk about good followers. If you talk about human rights, you should also talk about human duties and obligations.
"It is sad that after 53 years of independence, we have no leader that we can commend. The problem in Africa is that when one person takes over, he would not see any good thing that his predecessor did. Let us condemn but with caution," the former president was quoted as stating by the online news medium, Premium Times.
The Vice-Chancellor of the University of Ibadan, Prof. Isaac Adewole, said he was worried about the fate that could befall the country as she holds her general election in 2015.
"We have not raised question about the scenario where 35 people found it difficult to conduct credible election in this country," the don said in reference to the election of the Chairman of the Nigeria Governors Forum that has polarised Nigeria's 36 state governors.
But in swift reaction, Atiku, said Obasanjo did not know him well at the time he was his deputy, adding that it was later that he (Obasanjo) got to know him as a fighter for democracy and defender of the constitution.
A statement issued by Atiku's media aide, Garba Shehu, said: "Yes, President Obasanjo is right. He didn't know Atiku well. It was later he got to know him as a fighter for democracy and defender of the constitution."