Insecurity, Emir Ill-health Hinder Sallah Celebration In Kano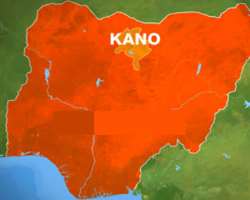 Kano state celebrated this year's Eid-El-Fitr in low-key owing to the absence of Emir of Kano who is currently in undisclosed country for medical treatment and coupled with the problem of insecurity occasioned by the Boko Haram insurgency.
The yearly festival was observed in Kano without the normal Durbar festivities.
The Wambai Kano who is also the Senior Counselor  in the Emirate, Alhaji Abbas Sanusi told reporters in Kano that all traditional activities marking the end of the Ramadan fast and the Eid-il-Fitr celebrations may not be observed this time round due to the insecurity and the poor health of the Emir of Kano, Alhaji Ado Bayero.
The Senior Counselor, however, advised District Heads in the 44 Local Government Areas of the state to observe the ceremony in low-key in their domains.
The Wambai Kano also directed the District Heads to converge at the Emir's Palace on the third day for the normal Sallah Homage to Governor Rabi'u Musa Kwankwaso at the Government House.
He also urged the Government not to relent in its efforts to rid Nigeria of the dreaded polio virus.
Delivering Sallah Message on behalf of Emir Bayero who is currently out of the country for medical reasons, Wambai Kano also called on residents in the state to assist security agencies with relevant information in their efforts to fight insurgency and criminal activities.
Meanwhile, the Chief Imam of Kano state, Prof. Sani Zahradeen has advised Nigerians to be more tolerant, united and ensure peaceful co-existence regardless of culture, religion or political affiliations.
Prof. Zahradeen gave the advice Thursday morning after the Raka'at Prayer held at Ado Bayero Eid Mosque to celebrate this year's Eid-il-Fitr which was witnessed by thousands of Muslim faithful.
The chief Imam noted that the nation can only overcome its numerous challenges if people tolerate one another.
Kano state Deputy Governor, Dr. Abdullahi Umar Ganduje also urged Muslims not to relent in their prayers for the restoration of peace in the state and the country at large, and prayed for peace, security and socio-economic development of Kano and Nigeria.