Mark Wants Nigerians To Adopt Rotary's 'Four Way Test'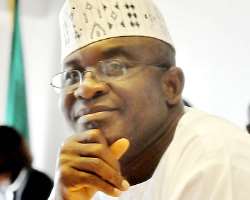 SAN FRANCISCO, August 01, (THEWILL) – Senate President, Senator David Mark, has called on Nigerians to adopt the four way test of Rotary International which promotes friendship, development, peace and unity between and amongst people.
This , according to him, would help end the violence and crisis ravaging some parts of the country.
The four way test of Rotary was propounded by Herbert Taylor in 1932 as a simple checklist for ethical behavior. They transcends generations and national borders .
The four way test of Rotary asks specific questions : "Is it the truth?, Is it fair to all concerned?, will it build goodwill and better friendship and will it be beneficial to all concerned?".
Noting that. every rational being should have the four way test of Rotary in mind before taking any decision, the Senate President said " Our utmost responsibility is to speak the truth, to be fair, to build goodwill and better friendship and do our best in all situations.".
Senator Mark made the call while receiving the visiting Rotary International President-elect, Gary Huang, in Abuja on Wednesday, expressing optimism that most of the troubles bedeviling some countries of the world would be curtailed if people imbibe the four way test of Rotary.
He noted that the humanitarian gestures of Rotary International to help the less- privileged individuals and communities in the society are commendable, saying " the national development and unity which Rotary attracts is unprecedented ".
He therefore promised to spread the good message of Rotary which, according to him, would promote goodwill and democracy in Nigeria.
The visiting President- elect of Rotary international, Huang, had earlier said he was in Nigeria to promote the goodwill of Rotary , get more converts and make the world a better place where peace, justices , love and respect for one another reigns.
Huang also promised to help expand the membership of Rotary International in order to help overcome the turbulence ravaging most nations of the world.