PDP Frowns At Attempt To Foil Prosecution of Chidi Lloyd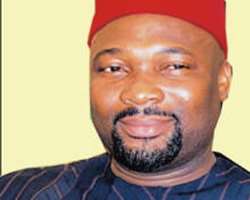 The Rivers State chapter of the Peoples Democratic Party has condemned in very strong terms the attempt to arms twist the court to let the former Leader of the state House of Assembly, Chidi Lloyd who is currently facing six count charge of attempted murder on the life of Hon Michael Chinda, off the hook by the state government on the instructions of Governor Rotimi Amaechi.
The statement accused Gov Chibuike Amaechi of using his Attorney General, and Commissioner for Justice, Worgu Boms, Chief of Staff, Tony Okocha and others to compel the presiding judge to have Chidi Lloyd arraigned in court today, July 30, 2013 against the earlier date of August 6, scheduled for his arraignment.
The statement signed by the Special Adviser on Media to the State party chairman, Jerry Needam described as illegal and unjustified for a court of law to issue an order to produce Chidi Lloyd in court today and proceed to hear and ordered him to be produced same day in court.
Such a path of dishonor, the party noted, will not augur well for the current political situation in the state, considering the fact that the charges against Chidi Lloyd are serious and sensitive and must not be handled in a manner that will arouse suspicion of bias and, or complacency.
The party therefore urged all interested parties in the matter, as the case comes up tomorrow  Wednesday July 31, 2013,  to thread with caution, saying it'll take exception to any attempt no matter who is involved to reduce the sanctity of human life to mere political chess game, further warning Gov Amaechi and his fellow blood thirty political office holders to steer clear of the Chidi Lloyd case and allow justice to follow its natural course if the already over-heated polity will not degenerate.