A'Ibom Govt. To Sponsor 1,500 Christian Pilgrims In 2013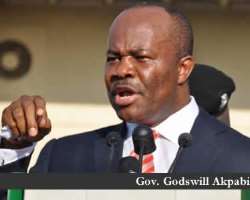 Akwa Ibom Government intends to sponsor about 1,500 pilgrims to the Holy Land for this year's Christian pilgrimage.
Governor Godswill Akpabio, who stated this at the monthly prayer held at St. John's Chaplaincy, Government House, Uyo, said "The state government would sponsor a minimum of 1,500 pilgrims to the Holy Land for the 2013 Christian pilgrimage. I want people to remember Akwa Ibom State for one thing: let us be remembered as that State that loves God'.
Akpabio said Akwa Ibom State should also be remembered as a state that uses its resources to better the lives of its people, recalling 'Somebody asked me 'you are doing a lot of projects when are you going to rest? Don't think that I am going to relent.
"We will continue to put in money that is meant for the people. We are intervening right now at Eket-Ibeno Road. We are dualizing the road from Eket to Ibeno starting at three locations because I want to commission that road before I leave office as a Governor', he added.
The Executive Secretary of Nigerian Christian Pilgrims Commission, Mr. John Kennedy Opara,  hinted that Akwa Ibom International Airport has been listed as one of the airports in the country to airlift pilgrims for this year's Christian pilgrimage to Rome and Greece, saying "If there is any airport in Nigeria, it is Uyo airport. This is the airport with all the fire-fighting equipment'.
According to him, 'We are so impressed at the development in the airport and this year God willing, we will be airlifting pilgrims from here direct to Rome and Greece. The neigbouring States will also be passing through here'.
Mr. Opara described Governor Akpabio as man who has passion for excellence reflective in the quality of development projects executed in the state, adding 'There is no second-class project here'.
In his homily taken from Luke 10: 29-37, the Rev. Father James Eshiet said 'The action of the Good Samaritan was that of love', charging all to emulate such as commanded by Jesus Christ.
The monthly prayer featured choirs rendition, prayers for the nation, the state and leadership at various levels in the country.