INEC Appoints D-G To Head The Electoral Institute (TEI)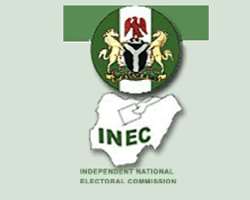 To reposition The Electoral Institute (TEI) and make it a foremost centre of excellence and electoral training in the West African subregion, the Independent National Electoral Commission (INEC) has appointed a Director-General (D-G) to superintend over its affairs.
He is Abubakar Momoh, a Professor of Political Science.
Until his appointment, Professor Momoh was the Dean of the Faculty of Social Sciences at the Lagos State University, (LASU).
Momoh obtained a Ph.D in Political Theory and started his Lecturing career in 1988. Momoh has over 70 publications to his credit. He has served on various Boards and scientific committees including those of the Centre for Democracy and Development (CDD) and Council for the Development of Social Science Research in Africa (CODESRIA). He was also Vice President of African Association of Political Science (AAPS).
Momoh has been a researcher and lecturer at many universities across the world, including being Visiting Research Fellow, Institute of Development Studies, University of Helsinki, Finland; Fellow, Department of Peace and Conflict Research, Uppsala University, Sweden, Visiting Scholar, Centre for African Studies, University of Cape Town, South Africa; Guest Lecturer, Nordic Africa Institute, Sweden; Guest Lecturer, Summer Course on African Law, Catholic University, Brussels, Belgium; Senior Fulbright Scholar, James Coleman African Studies Centre, University of California, Los Angeles (UCLA); Guest Lecturer, African and African-American Studies Department, University of North Carolina, Chapel Hill, USA; Visiting Researcher and Tutor, Conflict, Security and Development Group (CSDG), King's College, University of London; and Visiting Senior Research Fellow, International Development Centre, Open University, Milton Keynes, England, among others.
Momoh has served on several government technical committees including being a member and Coordinator of "Foreign Policy" Subcommittee of Federal Republic of Nigeria "Vision 20:20 Technical Committee; he was also a member of the team that drafted the policy on "Peace Support Operations (PSOS) for the federal government.
Professor Momoh has also been on several technical teams of the African Union Commission (AUC), and most recently was involved in designing the African Governance Architecture (AGA) and  Elections  Benchmarking for the African Union. He has also served as election Observer to several African countries on behalf of ECOWAS and African Union. He has also served as Election Observer to some European countries.
He assumes duty on 1st August 2013.