Nigerians Wiser Than Politicians – Kalu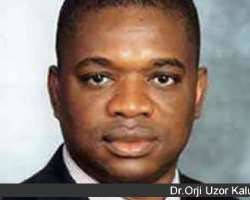 As the road to the 2015 elections gets clearer,former Abia state governor Dr.Orji Uzor Kalu has advised fellow politicians against heating up the polity while undermining the mood of compatriots.
Kalu said,"Nigerians are more sophiticated than ever,we cannot take them for granted anymore.They know what is going on,and i am so sure that they would not be led by the nose any longer."
He cited the June 12 1993 and April 2011 elections as periods when the people spoke with their votes,breaking ethnic and elitist barriers.
"In 1993,no one looked at religion,for Chief Moshood Abiola and his running mate Alhaji Baba Gana Kingibe were muslims.Infact,Abiola, a Yoruba, defeated Alhaji Bashir Tofa in his Kano home.In 2011,Dr. Goodluck Jonathan chose an Hausa Vice Presidential candidate,yet the Yoruba and Igbo went for him.Simply,they saw in Jonathan a departure from the past where you had to be connected to lead the country,"Kalu explained.
The former governor added that Nigerians would continue to build bridges,irrespective of politically motivated ethnic divisions.
"We all saw how Dr. Nnamdi Azikiwe and Chief Adeniran Ogunsanya bonded and left the scene in 1996.Ogunsanya's last outing was Zik's lying-in -state in Lagos.A few days later,he departed.That is the Nigerian spirit that keeps Oba Okunade Sijuade,the Ooni of Ife and Alhaji Ado Bayero,the Emir of Kano together.Even in death,Prof.Wole Soyinka still fights for Chris Okigbo.There is not much difference between Dimgba Igwe and Mike Awoyinfa,just like you saw Dr.Frederick Fasehun fly to Kano with Hamza Al-Mustapha,"Kalu continued.
Kalu capped it all with the Civil War pact between Biafran Col Simeon Uwakwe and his Nigerian course mate Brig.Godwin Alabi-Isama."Alabi-Isama said it all.The Third Marine Commandos refused to do battle with the Special Task Force in Arochukwu because their Commanders were pals.The same Uwakwe had escaped death by a whisker during the counter coup in 1966.Newly married and fresh from his father's burial,Uwakwe was shot at the back of the neck,the bullet came out through his mouth,rendering the officer toothless.What a coincidence that the man died early this year,exactly 47 years after the first military coup.The lesson is,Nigerians know their left form their right even if our leaders think they do not."