2015: Don't Expect Credible Elections, Balarabe Musa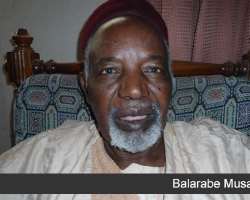 Alhaji Balarabe Musa, the leader of the de-registered Peoples Redemption Party (PRP), has expressed scepticism on the ability of the Independent National Electoral Commission (INEC) to conduct credible election in 2015.
Musa said as long as the commission was not granted full autonomy, it would be unable to discharge its mandate without manipulation.
The former governor of the old Kaduna state told the News Agency of Nigeria (NAN) in Kaduna that the issues inhibiting acceptable polls in the country ought to be addressed so as to ensure that the votes of Nigerians count.
"If the situation continues as it is today, INEC would be unable to conduct free, fair and transparent election leading to a legitimate government.
"INEC itself is not independent, politics is over regulated to the extent that it is even beyond INEC to manage."
He also identified corruption as the bane of credible polls and general development in the country.
According to him, the social, political and economic system in the country is based on self interest, "as leaders place self above national interest".
Musa said Nigeria requires fundamental changes but noted that the present crop of leadership were "too selfish to change anything".
"A day would come when patriotic Nigerians would take over the country and change the negative state of the nation, but it has to be worked for."
Musa was emphatic that the PDP government had failed, adding that only a radical surgery of the party's leadership may bring about changes in the country.
He alleged that the high level of oil bunkering was a result of connivance between some politicians and the military, saying that oil theft had been going on in the country since the second republic. (NAN)