ONE SOUL, MANY RESOUNDING MESSAGES.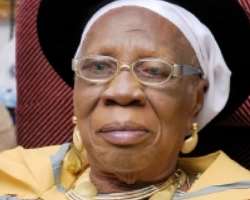 LATE ALHAJA ABIBAT MOGAJI,
As Alhaja Abibat Mogaji, mother of Asiwaju Bola Tinubu returns in style to her creator, her exit holds up a powerful mirror about the Nigeria we so much desire as Muslims and Christians unite in praise and celebration.
On Sunday July 7th this year the time proven saying that when beggars die there are no comets seen but heavens blaze forth the death of princes resonated through time as thousands gathered to give praise for the life and time of Alhaja Abibat Mogaji. More telling was the singular truth about Nigeria's potential unity if we all work together. The interdenominational service reinforced the belief that Nigerians in spite of religious or tribal differences are bound in love. It was a galore of glorious praise, dance, worship and prayers at the Interdenominational Service held in honour of the late matriarch and business tycoon, Alhaja Abibat Mogaji, Mother of Former Governor of Lagos State, Asiwaju Bola Tinubu, at the Eko Hotel and Suites. The congregation was a collection of various people from all walks of life, united in prayers for the repose of Mama's soul and a healing for the country she left behind. Under one roof, the Nigeria we so long for unfolded before our very eyes. This day and celebration was possible because a great mother beget a great son who gave flight to her dreams and concretized her vision.
Since the demise of the market leader, encomiums have poured in non-stop from all corners of the globe. Three major events had taken place according to Islamic rites as Mama was a devout Muslim. However, the Christian community, which she was very much supportive and appreciative of, wanted to be a part of the proceedings, so the leaders of many denominations decided to put the service together. And it was an event any saint would have been proud of. Indeed, it was a fulfillment of one of Alhaja's few wishes that apart from the Muslim rites of burial, a Christian service be also held in recognition of the many Christians she worked with and led as Iyaloja.
It kicked off at exactly 3pm as slated. The hall had already started to fill up by 1pm as the very engaging praise and worship session flowed. Seating in the front row were church leaders anywhere from Redeemed Church of God to Anglican and Methodist dioceses. They fellowshipped with each other without rancor. Even Archbishop Marcus Atilade brought his tambourine. Right in front with them was Asiwaju Bola Tinubu. To his left was his darling wife, Senator Oluremi Tinubu and to his right was Lagos State Governor, Babatunde Fashola. The also up front were governors Kayode Fayemi and Ogbeni Rauf Aregbesola of Ekiti and Osun respectively. Chief Bisi Akande, National Chairman of the Action Congress of Nigeria was also present. All joined in the singing and dancing of Christian songs of praise.
The programme was masterly punctuated with hymns, special numbers by choristers and tributes. One of Mama's grandsons-in-law, Hon. Oyetunde Ojo, came up and testified to how she embraced him and made him feel comfortable even though he was a Christian seeking her grand daughter's hand in marriage.
He said, "When I came to her in 2005, and prostrated in front of her, she looked at me and asked, 'Are you a Christian?' I said, 'Yes,' then she said, 'Hallelu---, Hallelujah!"
This and the many tributes that followed showed that Mama Mogaji was a tolerant and accommodating spirit. General Evangelist, Christ Apostolic Church Worldwide, Prophet Kayode Abiara, came up and said these traits were clearly visible in Bola Tinubu. He said Tinubu's love for giving and sharing was why people always rallied around him whenever he called them.
"Tinubu is a lover of all people and shares his wealth with everybody. That is why people keep coming every time he has an event like this. Mama trained him well and we praise God for her life," Prophet Adiara said.
The Archbishop of the Ecclesiastical Province of Lagos Anglican Church, Reverend Adebayo Akinde, also spoke along the same lines.
"Asiwaju has followers because he shares with people, communicates with them and does not close his door behind the people," he said. "He is always ready to share whatever he has with the people, no matter the discomfort it is going to cause him. This, we believe, are qualities of good leaders which the late Mogaji bequeathed to mankind."
There were several prayer sessions in the course of the event. The prayer points included consolation for the Tinubu/Mogaji family, guidance and wisdom for the leadership of Lagos state and the nation, prosperity for all the traders and unity for all Nigerians. Everyone present participated. It was particularly touching when the entire congregation held hands and prayed at the top of their lungs for Nigeria. It was a moment to be proud of.
In her sermon, Reverend Mercy Ezekiel pointed out Mama's deeds and encouraged all to sow good seeds wherever they go.
"This is a woman who passed on at 96; yet, people are still saying she is too young to die. They have said so because of the enormous impact she made in their lives. She had been catering for many people and had transformed their lives; reason they would not want her to go even at that age," she said.
As he delivered the vote of thanks, a visibly happy Bola Tinubu narrated how much he missed his mother and thanked everyone for fulfilling her wish by attending the event.
"I cannot express to all the officiating ministers and clergy how happy and honor I am today. God will continue to honor you" he said.
He made particular mention of Bishop of the Diocese of Lagos Anglican Communion, Archbishop E. A. Ademowo, the Prelate of the Methodist Church, Nigeria, His Eminence, Dr. Ola Makinde, Adewale Martins, and the Reverend Ezekiel. He thanked his family, friends, associates, traders and even Mama's nurses. He said the service was in fulfillment of his mother's wish.
"We owe Mama this celebration, we owe her so much," he added.
As the event came to a close and the clergy squeezed close for photos with Bola Tinubu, the lingering thoughts were those of joy at a life well lived for Mama Mogaji and the compassionate and brave leader she has left behind. The event was organized to celebrate the life of a great woman, but it also turned out to be confirmation of Bola Tinubu's statesmanly and enviable stature, his multi-cultural dimension and his multi-religious acceptance.
The singular message of that stupendous yet sober event is that religious harmony is possible. And now we know that the spurious allegation that Tinubu and the APC team are intolerant religious insensitive is only a figment of the wild imaginations steeped only in mischief.
Written By Akin Daniels

Disclaimer:

"The views/contents expressed in this article are the sole responsibility of the author(s) and do not necessarily reflect those of The Nigerian Voice. The Nigerian Voice will not be responsible or liable for any inaccurate or incorrect statements contained in this article."
Articles by thewillnigeria.com