Abia State Governor Woos Chinese Investors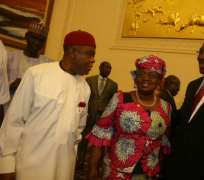 Abia State Governor Chief Theodore Orji who is in China with President Jonathan on a business investment summit has assured foreign investors of adequate security as he wooed them to come and invest in the state.
In a statement by the CPS Ugo Emezue, Gov Orji who hosted a group of private investors in Beijing maintained that Abia is one of the safest states in Nigeria as security is being maintained round the clock. Chief T.A. Orji declared without equivocation that Abia is a virgin market for foreign investments in various sectors like Oil and Gas, Housing, Education, Agriculture, Transportation, Commerce and Industry, Health, and Tourism. Chief T.A. Orji said that the improved security and infrastructure, tax breaks were among incentives for prospective investors.
The Abia helmsman stated that the agility of the states work force and her cordial relationship with foreigners were other benefits of investing in abia.
Speaking further the Governor hinted that the State has recorded great mile stone in the health sector with the establishment of a world class diagnostic centre in Umuahia and Aba which is a product of partnership with a foreign investor.
The Governor stated shortly before leaving for China with the President, he inspected some opthamology equipment in lagos owned by MECURE, an indian firm. According to him the State Govt having established a Dialysis Centre , is set to build a world class ophthalmology Centre in Umuahia. Chief T.A. Orji said that Abia is a land of opportunities, urging the investors to come in without delay. The Governor will also interact with Abians in China before returning home with Mr President.....Ugo Emezue CPS
Nnaji Obed Asiegbu
SA e-Governance & Strategy
to the Abia State Governor
[email protected]
www.abiastate.gov.ng
08130196187