Four Boko Haram Members Sentenced To Life In Prison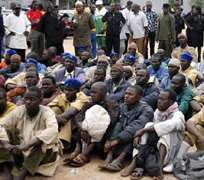 SAN FRANCISCO, July 09, (THEWILL) - A Federal High Court in Abuja, Tuesday, issued a landmark judgement as it sentenced four members of the Boko Haram sect to life in prison while the fifth bagged 10 years jail term.
In a judgement, the presiding judge, Justice Bilikisu Aliyu,convicted the five Boko Haram members on three of the five counts brought against them as one of the accused was freed.
Those who are to spend the rest of their lives in jail are Shuaibu Abubakar, Salisu Ahmed, Umar Babagana-Umar, and Mohamed Ali; Umar Ibrahim bagged 10 years, while Musa Adam was freed for lack of evidence.
They were all arraigned on a five-count charge in 2011 bordering on the April 8, 2011 bombing of the Independent National Electoral Commission (INEC) office in Suleja, Niger State, where 16 died and others were injured.
They were also charged with the July 10, 2011 explosions at the All Christians Fellowship, Suleja, killing three and injuring others; the March 3, 2011 explosion at a political rally in Suleja, where three people died; and the May 23, 2011 explosion in Dakina Village, Bwuari, Abuja, killing three policemen.
They were equally charged with engaging in illegal training in weapon handling and unlawful possession of weapon for the purpose of engaging in terrorism.
They were charged under Section 15(2) and (3) of the Economic and Financial Crimes (EFCC) Act.
Justice Aliyu discharged the convicts on the charges relating to the explosions at the All Christians Fellowship and the killing of policemen in Dakina on the ground that the prosecution failed to provided convincing evidence to support the charges.
In relation to the other charges, the judge held that the prosecution led sufficient evidence to prove the guilt of the convicts.
She therefore freed Adam on the ground that the prosecution failed to link him with the offences.
In relation to the four sentenced to life imprisonment, Justice Aliyu noted that the accused "used explosives meant for blasting rocks for mining purposes, to kill human beings who had done nothing against them.
"Human life is sacred. There is no human life that is more sacred than the other. The convicts have shown lack of respect for human life. They deserve to be removed from the society," the judge held before pronouncing the sentence.
In the case of Umar Ibrahim, who got 10 years, the judge observed that according to the evidence led by the prosecution, he merely served as errand boy for others, who engaged in the illegal weapon training. Justice Aliyu held that Ibrahim was culpable for aiding the illegal trainees as he could have refused to run errand for them if he was not in support of their activities.