CAF HITS BACK AT TOGO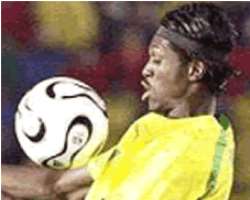 http://www.nigerianbestforum.com/blog/wp-content/uploads/2010/02/Togo-adebayo.gif Adebayor
The Confederation of African Football (CAF) insists it was right to ban Togo from the next two Africa Cup of Nations tournaments despite widespread criticism of the decision.
CAF also lashed out at what it called "the Press campaign aimed at tarnishing the image of high personalities of the hierarchy of African football."
Togo was banned from the next two editions tournaments and fined $50,000 for withdrawing from the event in Angola.
The team withdrew after a gun attack on its party killed two persons and injured several others, on the insistence of the Togolese government.
CAF said the Togolese players had wanted to stay, and, therefore, the decision to pull them out amounted to "government interference".
The CAF's ruling has been widely condemned in various circles including governments, footballers and fans, while protests were held in Lome against the ban.