2013 Budget - Don't Pitch Us Against Jonathan: Senate Warns Okonjo-Iweala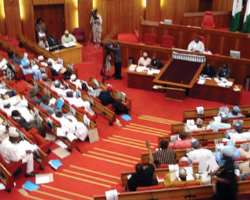 ABUJA, July 02, (THEWILL) – The Senate on Tuesday warned the the Coordinating Minister for the Economy and Minister of Finance, Ngozi Okonjo-Iweala, not to attempt pitting the public against the National Assembly.
The Senate also alleged that Okonjo-Iweala was trying to pitch it against President Goodluck Jonathan over the inability of the legislature to consider and possibly approve the 2013 Budget Amendments.
Similarly, the Senate, accused President Jonathan of reneging on an earlier agreement that should he sign the 2013 Budget, legislators will approve an immediate follow-up amendment he would send to lawmakers.
The Chairman, Senate Committee on Information, Media and Public Affairs, Senator Enyinnaya Abaribe, said at a press conference in Abuja that Jonathan forwarded "voluminous" amendments as opposed to specific alterations agreed under the deal and by implication complicating the legislative consideration.
It could be recalled that Okonjo-Iweala had on Monday raised the alarm that economic activities may be shut down and the Federal Government unable to pay workers salary by September if government failed to resolve the lingering problems with the 2013 Appropriation Act.
The senators said such viewpoint was alarmist.
Abaribe in the address said; "The National Assembly was perplexed when we heard today about comments allegedly made by Minister of Finance and the Coordinating Minister of the Economy with respect to the budget.
" First of all, the Senate does not view the comments made lightly. The feeling of the Senate and of course the National Assembly has always been that we do not expect Ministers of the Federal Republic and appointees of the President to make comments that tend to give the impression of a collision course between the executive and legislature, because we are all working towards the same purpose; and which is to make sure that we take care of the welfare of Nigeria.
"Therefore, we find it not to our liking when a comment is made that tends to say that government will shut down if the National Assembly doesn't do anything. We do not agree with that.
On the new 2013 Budget Amendment sought by Jonathan, Abaribe said the Senate will consider the request when it resumes from its two month long recess in September.
Abaribe said: "What we got from the President, which is actually the third Amendment is a sort of document amending the budget. Now we found that these documents are even larger than the budget itself and there is no way that the Senate and even the National Assembly can consider these amendments until we come back from our vacation this year.
"There is absolutely no way amendments of these nature would be considered for the short time that we have until we go on our national vacation. And the point really is this, it not about the report that there are differences; and this was discussed with the presidency that we take care of the differences and deal with them. Coming to now bring up a whole list of amendments that are even much more than the original that was sent, I do not expect the Presidency would say we shouldn't have enough time to go through it.
"In addition to that, we have other things we would want to deal with. What we would want to appeal is that efforts should not be made to put us on a collision course. We are not on a collision course.
"We are all interested in making sure that the budget as passed would be implemented, and implemented in such a way that everybody within this country will get the benefit of why the budget was passed in the first place.
"We know that in September as the president has promised, there is going to be a new budget. So, when you bring a budget of this volume and then you bring another budget in September, what do you expect us to do?.
Meanwhile, Jonathan has sent a third 2013 Budget Amendment to the Senate indicating changes proposed accross select expenditure categories. The President in a letter dated June 26 said some capital projects, the allocations of which were reduced by the National Assembly be restored so as promote national development.
For instance he complained that Ministry of Works: Abuja-Lokoja Road was reduced by N4 billion; Kano-Maiduguri Road reduced by N3.5 billion; Dualisation of Ibadan-Ilorin Section 2 reduced by N5.5 billion; Rehabilitation of Jebba Bridge reduced by N1 billion; Special Intervention Fund for Emergency Roads and Bridges washout across the country reduced by N6.28 billion; Dualisation of Obajana Junction to Benin reduced by N4 billion.
He also stated : "Ministry of Health: MDG HIV/AIDS ARV drugs allocation reduced by N1 billion; Routine Immunisation Vaccines reduced by N1.75 billion; Malaria Programme procurement and distribution of insecticides reduced by N0.8 billion; Payment of pledge for Onchocerciasis Recertification cut by N0.12 billion; National Trauma Centre, Abuja reduced by N0.1 billion.
"Ministry of Power: A total of N16.3 billion was cut from power projects including the 215MW Kaduna Dual Fired Power Plant,which was reduced by N2.25 billion; 2nd Kaduna-Kano 33KV DC Lines reduced by N1.5 billion; Gombe-Yola-Jalingo 330KV SC Line reduced by N0.6 billion; Maiduguri 330/132KV Sub-station reduced by N0.3B; Kaduna-Jos 330KV DC Line reduced by N0.5 billion; Omotosho-Epe-Ajah 330KV DC line reduced by N0.8billion.
"Ministry of Transport: Construction of Abuja-Kaduna Rail was reduced by N1.4 billion; Jebba-Kano Rail line Rehabilitation reduced by N0.5 billion; procurement and rehabilitation of wagons/locomotives reduced by N1billion;insurance of locomotives reduced by N0.2 billion.
Ministry of Education: Allocations to various projects were reduced to the tune of N5.64 billion including the National Library Project which was cut by N2 billion.
"SURE-P: We all appreciate the fact that unemployment is one of our major concerns in this country today.
Considering the gravity of the situation, I would like to bring up the issue of the budgetary allocation to the Community Services, Women and Youths Employment Programme under the Subsidy Reinvestment and Empowerment Programme (SURE-P). Against our proposal of N27 billion, the National Assembly allocated N9 billion . This cut will have the adverse effect of severely undermining our capacity to create jobs needed for our teeming unemployed youths,women and physically challenged citizens. In this regard, I crave your cooperation to restore the SURE-P Budget."
Jonathan reminded the Senate that the personel cost was cut across all MDAs which he said will make it difficult to meet government's obligation to its workers. He therefore sought restoration of the cuts in order to maintain "industrial harmony".