Delta Assembly Suspend Former Speaker For 3months Over Publication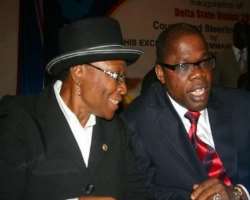 PHOTO: (R) DELTA HOUSE SPEAKER, HON. MARTIN OKONTA.
Asaba Feb 25, (THEWILL) - Erstwhile Speaker and member of the Delta State House of Assembly, Hon. Oliseh Imegwu, representing Ndokwa East, Constituency has been suspended for three months for allegedly publishing materials reasoned to have discredited the state government.
Assembly legislators were unhappy with Imegwu for alleged flaying the State government's Micro-Credit scheme, and other programmes by insinuating that Ndokwa, one of the oil producing areas is the least developed among the oil producing communities in the State.
The suspension followed a resolution of the House on Matters of Urgent Public importance brought by Honourable Funkekeme Solomon representing Burutu11 Constituency, who also accused Imegwu of publishing matters of the 2010 budget, yet to be passed by the House.
The motion, was initially for indefinite suspension, but was amended by the Majority Leader of the House, Hon. Akpodiagaga Emeyese.
Citing some legislative privileges, and the oath of allegiance taken by the legislator, Solomon said, Imegwu as Chairman of Works' Committe, ought to have known the rules of the game, not to publish what the House had yet decided on.
Imegwu had arrived the House, wearing white traditional attire, with a red cap and an eagle feather. He tried to defend himself but his colleagues did not accept his explanations.
In his contribution, another member, Victor Ochei, (Aniocha North), said Imegwu was not a first offender as a similar publication had been done by the said legislator in the past. Based on these and more, the House clamped a three months suspension on him.
THEWILL however gathered that Imegwu, a third term member of the House has been embroiled in some controversies. He was in early 2008 legislative year, impeached as Speaker.