Jonathan Cut Off From Ailing President, FEC Meeting Postponed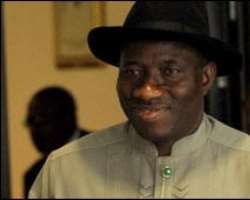 PHOTO: ACTING PRESIDENT GOODLUCK JONATHAN.
Abuja Feb 24, (THEWILL) – THEWILL checks at the villa show that all is definitely not well at the seat of Nigerian government forcing a postponement of the weekly executive council of the federation meeting.
Early Wednesday morning, Nigerian President Musa Yar'Adua was flown into the country amidst tight security with soldiers deployed to the streets without the knowledge of Acting President Dr. Goodluck Jonathan. Attempts by the vice president to see the ailing president has been unsuccessful so far.
Ministers gathered this morning for the usual executive council meeting at about 9.30 a.m. but were told at 12. 10 p.m. about the postponement by the Secretary to the Government of the Federation, Alhaji Yayale Ahmed, who casually strolled into the chamber. The Acting President refused to convene the meeting because there were disagreements with regards to where he would sit during the meeting.
Presidency sources say the Acting President is insisting on seeing the ailing president and has noted that he would not take instructions from any intermediary claiming that the president said this or said that.
Security at the villa has been beefed up with new sets of loyal guards and SSS officers deployed.
PDP chairman Vincent Ogbulafor, Bukola Saraki and a couple of other politicians who tried to see the president were bounced.