FANI KAYODE BACKS BABANGIDA ALIYU FOR PRESIDENCY 2015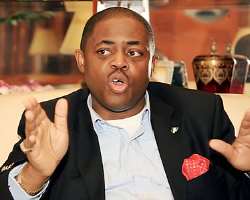 THE search for a standard-bearer for the yet-to-be registered All Progressives Congress may have started as one of its stalwarts and former Aviation Minister, Chief Femi Fani-Kayode, has urged the Niger State Governor Babangida Aliyu to contest the 2015 presidential poll.
Fani-Kayode, who spoke with reporters on Monday in Minna, said he was …in the state to 'consult with important people about the Nigeria project.'
He said, 'Nobody can ignore Niger State, nobody can ignore Minna; anyone that ignores the state does so at his or her own peril.'
Though not confirmed, Fani-Kayode reportedly held talks with former military heads of state, Gen. Ibrahim Babangida and Abdulsalami Abubakar.
The former minister, while recommending Aliyu for the country's presidency in 2015, said, 'The governor is honest, straight forward and courageous.'
Fani-Kayode, who recently defected from the Peoples Democratic Party to the APC, said the people of Niger State should be proud of Aliyu because 'despite all challenges, he has come out to do what is right.'
The former minister said, 'When you want to consider the bright stars of Nigeria for 2015, consider Governor Aliyu.'
He added, 'If the PDP fails to pick Governor Aliyu as its presidential standard-bearer for 2015 election, the opposition will be delighted to have him. Any group of people that will be privileged to have Aliyu should be grateful.
'For 2015, we need forthright men that will stand against tyranny and injustice. We need men that will fight for democracy.'
Fani-Kayode also explained why he left the PDP, saying the party had lost focus and abandoned Nigerians.
He alleged that the PDP-led Federal Government had since 2007 squandered the nation's resources, resulting in the depletion of its foreign reserves, and the excess crude account.
The aviation minister in the former President Olusegun Obasanjo administration added that there was increasing corruption, security challenges and high unemployment rate in the country.
Noting that he had advised Obasanjo to leave the PDP, Fani-Kayode said there was the need for people of like minds to come together to save the country from the party.
He added that if President Goodluck Jonathan continued as president beyond 2015, 'Nigeria will be worse than Zaire.'
Canvassing a change in the nation's leadership, Fani-Kayode said the PDP-led Federal Government, which he thought would bring about progress, had only succeeded in bringing retrogression to the polity.
He also described the suggestion by the chairman of the PDP Board of Trustees, Chief Tony Anenih, to give automatic ticket to Jonathan and the governors seeking second term in office as 'dangerous' and a plan to turn Nigeria to communist 'China and Socialist Republic of Russia.'