United States Government Issue Statement On Yar'Adua's Return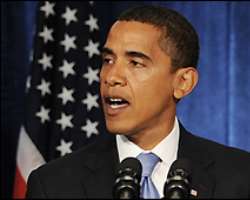 PHOTO: US PRESIDENT BARACK OBAMA.
PRESIDENT YAR'ADUA'S RETURN TO NIGERIA
The United States welcomes the news of President Yar'Adua's return to Nigeria. We hope that his health is sufficient to enable him to fully resume his official duties. Nigeria needs a strong, healthy, and effective leader to ensure the stability of the country and to manage Nigeria's many political, economic, and security challenges. Recent reports, however, continue to suggest that President Yar'Adua's health remains fragile and that he may still be unable to fulfill the demands of his office.
We hope that President Yar'Adua's return to Nigeria is not an effort by his senior advisors to upset Nigeria's stability and create renewed uncertainty in the democratic process. Nigeria is an extraordinarily important country to its friends and partners, and all of those in positions of responsibility should put the health of the President and the best interests of the country and people of Nigeria above personal ambition or gain.
As a nation of 150 million people, Nigeria's democracy and its continued adherence to constitutional rule should be the highest priority.
Ambassador Jonnie Carson. U.S. Assistant Secretary of State for African Affairs.