Goodluck Jonathan Still Acting President Until…- Information Minister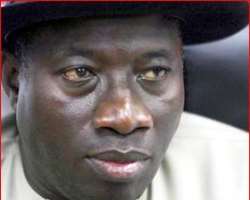 PHOTO: NIGERIAN ACTING PRESIDENT GOODLUCK JONATHAN
San Francisco Feb 25, (THEWILL)- Dr. Goodluck Jonathan remains Acting President and will continue to conduct the business of state until the National Assembly reverses a resolution which empowered Jonathan with full executive powers, Nigerian Information Minister, Dora Akunyili said on Thursday.
"He cannot go back to Vice President until the National Assembly reverses their resolution that made him Acting President, which was even supported by the Federal Executive Council and more importantly by most Nigerians," Akunyili told Reuters.
The secrecy surrounding the return of Nigerian ailing president, Musa Yar'Adua has thrown up questions on who is really in charge.
Yar'Adua, who multiple sources have said is gravely ill and plugged to a life support machine has not been seen by anyone except those very close him, that is, Turai, his ADC and CSO. Nigerian Acting President Goodluck Jonathan has not been able to see him to assess his state of health.
Spokesman for President Yar'Adua, Olusegun Adeniyi issued a statement on Wednesday addressing Jonathan as 'Vice President.'
In a counter move same day, Acting President Jonathan's spokesman issued a statement saying, "The ship of state is on course" and addressed Jonathan as 'Acting President.'
Meanwhile, President Yar'Adua's hurried return to Nigeria is seen as a calculated move by his handlers to upset the growing influence and stability of a clear Jonathan administration in the making.
A meeting scheduled for Wednesday night between Jonathan and Yar'Adua's wife, Turai to learn about Yar'Adua's state of health and when he (Jonathan) can see him was put off at the last minute. A presidency source said Jonathan called it off because Turai was not willing to discuss when Jonathan would be able to see Yar'Adua.
"The Acting President has repeatedly said he would not take orders from Yar'Adua through intermediaries, he is insisting on seeing his boss," the source said.
The Nigerian Senate and the House of Representatives have said that they have not been officially informed that Yar'Adua has returned to Nigeria even though a statement was issued from his office.