FEC Okays $2.9bn For Onne Port Complex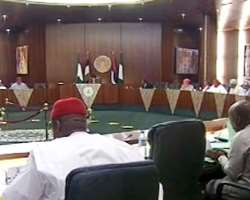 SAN FRANCISCO, June 19, (THEWILL) – The Federal Executive Council (FEC) on Wednesday okayed the sum of $2.9 billion for the development of Phase 4b port facilities at the Onne Oil and Gas Free Zone, Onne Port Complex, in Port Harcourt, Rivers State.
This, according to the government, is to decongest the ports in Lagos and Port Harcourt as the Minister of Transport, Sen. Idris Umar, had brought a memo to the meeting, seeking the council's ratification of the anticipatory approval already given by President Goodluck Jonathan.
The Council also deliberated on the contract for the supply of Hitachi generator special tools to Jebba Hydro Electric Plc., as well as the Oronsanye Report on the Presidential Committee on the Restructuring and Rationalisation of Government Parastatals, Commissions and Agencies.
Minister of Information, Mr. Labaran Maku, who was accompanied by his Power and Agriculture counterparts, Prof. Chinedu Nebo and Dr. Akinwunmi Adeshina, respectively, made the disclosures while briefing the media after the weekly meeting of the council.
The Onne Port contract was awarded to Deep Offshore Services Nigeria Limited and is expected to be completed within six years .
With a tax-free concession period of 25 years, the contractor is expected to wholly pre-fund the project while the cost will be "amortised from the service boat and other port charges in all the ports."
According to the working document for the project presented to FEC, "The concept of the development of the facilities was to decongest the Lagos and Port Harcourt ports while entrenching Public Private Partnership (PPP) in the establishment and upgrading of public sector facilities.
"The project is expected to generate 4,000 job opportunities for both professionals during its execution and about 20,000 direct and indirect job opportunities when it is in full operation."
And speaking on the Jebba contract, Minister of Power, Prof. Nebo, said because special tools are needed before the site work can start, the Federal Government awarded a N706, 903, 945 contract for the supply of of Hitachi Generator special tools to Messrs Marubeni Corporation.
"The project will guarantee steady supply of another 96.4 megawatts of electricity on completion by September 2014 as well as provide undisclosed number of jobs to Nigerians," Nebo said.
On the Oronsanye report, Maku said since the Council had not decided on it, no details could be given on it. He nonetheless said the report was in line with the Federal Government's desire to reduce cost by merging some of the current government agencies.