99 Per Cent Of Job Racketeers Not Staff Of Interior Ministry - Moro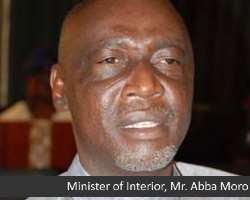 The Minister of Interior, Mr Abba Moro, said on Tuesday that over 99 per cent of persons involved in recent cases of job racketeering in paramilitary organisations under the ministry were outsiders.
Moro made the statement in Abuja during a question and answer session after giving account of his stewardship at the on-going Ministerial Platform.
The minister said that those so far apprehended, arraigned and imprisoned in connection with such acts were not officers of the ministry or the agencies concerned.
The News Agency of Nigeria (NAN) recalls that there have been allegations of job sales against paramilitary services supervised by the Ministry of Interior.
The affected agencies are Nigerian Immigration Service, Nigerian Prisons Service,   Federal Fire Service and Nigeria Security and Civil Defence Corps (NSCDC).
Moro said that officers of the ministry or agencies involved in the act had been sacked, retired or were being prosecuted in law courts without fanfare.
Consequently, he said an e-recruitment platform had been introduced by the ministry to harmonise all recruitments into the services.
He said the measure was to enthrone credibility and transparency and eliminate corruption in the process of recruitment.
Moro said that the Civil Defence Corps was alive to its responsibility of providing adequate security for the prevention of fraud and under-performance in ministries and parastatal agencies.
"The civil defence corps has referred to the EFCC or ICPC over 500 cases of certificate forgery and of job racketeering that have been attributed mostly to the Ministry of Interior,'' he said.
The minister also said that it was not that 6,000 Nigerians had fled the country into the Republic of Niger as a result of the military operations against Boko Haram in Borno, Yobe and Adamawa states.
He said only 126 out of the reported 6,000 were Nigerians, while the rest were citizens of Niger Republic, who were farming in the affected border communities.
The minster's explanation confirms the position of the National Emergency Management Agency (NEMA) which made similar disclosure in a recent press conference.