Wall St. Rises As Data Hints At Stronger Economy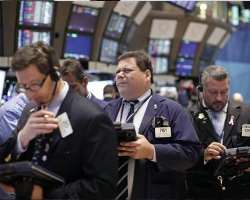 Stocks edged higher on Thursday, with the Dow back above 15,000, as stronger-than-expected data on retail sales and the jobs market signaled the economy may be shaking off a recent soft patch.
U.S. equities had initially headed into the session looking weaker following a slump in stocks globally, especially Japan's Nikkei .N225. Investors are trying to gauge when central banks around the world - particularly the Federal Reserve - will pull back on their accommodative monetary policy.
"The bright spot for the entire week was the data point today on U.S. retail sales. That data supports the notion that the U.S. consumer is moving forward with spending despite the uncertainty of Fed tapering," said Anastasia Amoroso, global market strategist at J.P. Morgan Funds in New York.
Comments by Fed Chairman Ben Bernanke last month stoked worries that the central bank could slow its $85 billion a month bond purchase program sooner than expected. Investors were looking to the Fed's policy-setting committee meeting next week for clarity on how soon the Fed will end its stimulus measures.
"Going into next week, I think the consensus positioning is that tapering is maybe more imminent than in fact we think it is. If in fact the Fed does not hint at an imminent exit from QE next week, we could get a little bit of a relief rally," Amoroso said.
The Dow Jones industrial average .DJI was up 39.24 points, or 0.26 percent, at 15,034.47. The Standard & Poor's 500 Index .SPX was up 4.45 points, or 0.28 percent, at 1,616.97. The Nasdaq Composite Index .IXIC was up 7.40 points, or 0.22 percent, at 3,407.83.
Stocks got a lift after data showed retail sales rose more than expected in May and first-time applications for jobless benefits fell last week, suggesting resilience in the economy.
Merger and acquisition activity also buoyed sentiment. Shares of the No. 1 U.S. newspaper chain Gannett Co Inc (GCI.N) jumped 22.2 percent to $24.25 after saying it will buy television company Belo Corp (BLC.N) for $1.5 billion. Belo surged 27.4 percent to $13.67.
Shares of William Cos (WMB.N), parent of Williams Olefins, fell 2.4 percent to $33.20 after a large explosion and fire hit the company's chemical plant in Louisiana on Thursday. Authorities said an unknown number of injured were being treated.
Nervousness over the withdrawal of economic support was exacerbated earlier this week when the Bank of Japan held its monetary policy steady. Investors have been unwinding some of the trades built around central bank support. The benchmark S&P 500 has advanced about 13 percent so far this year.
In contrast to the stronger data, the World Bank cut its forecast for global growth to 2.2 percent this year, down from its previous estimate of 2.4 percent and slightly below last year's growth of 2.3 percent.
In other company news, Safeway (SWY.N) shares surged more than 9 percent to $25.19 a day after Empire (EMPa.TO) said it would buy Safeway's assets in Canada for $5.7 billion.
Shares of perfume and beauty products seller Coty Inc (COTY.N) fell in their market debut on Thursday, taking the gloss off the third-largest U.S. IPO this year. Coty shares fell 1.4 percent to $17.27.
REUTERS