Delta PDP Approves Orubebe's Suspension From Party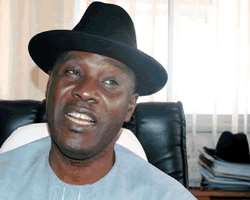 MINISTER OF NIGER DELTA AFFAIRS, ELDER GODSDAY ORUBEBE
SAN FRANCISCO, June 06, (THEWILL) – The Delta State chapter of the ruling Peoples Democratic Party (PDP) has ratified the suspension of the controversial Minister of Niger Delta Affairs, Elder Godsday Orubebe, who was suspended alongside nine other persons by the Burutu Local Government Area chapter of the party over conducts capable of breeding hatred and disunity in the party, as well as anti-party activities.

The state Chairman of the party, Chief Peter Nwaoboshi told journalists in Asaba on Thursday that his office had received the suspension order saying, "Discipline must be enforced in a political party."

The erring Minister, who hails from the Delta South Senatorial zone as the current governor of the state, Dr. Emmanuel Uduaghan, a few weeks ago openly declared his intention to contest the Delta State governorship election in 2015.

Orubebe, who has also fallen out with his political mentor, Chief E.K. Clark, had earlier described his suspension as by the Burutu PDP as illegal and non-binding.

But Nwaoboshi maintained that if governors could be suspended, there was no reason why the party could not discipline an errant minister.

"If two governors could be suspended, why not a minister! The law is not a respecter of anybody. Nobody is above the law or the constitution of the party. If the minister is found wanting, he has the right to appeal his suspension. The party provides for that. His appeal would be heart on merit," the Chairman added.

The Burutu chapter of the party had in a statement signed by its Chairman, Pastor Ogeibiri, Secretary and three others, after a meeting at the council headquarters of the party on Tuesday, said, "After a hearing, preliminary to Section 21.4 of the constitution as amended, and by the virtue of the powers conferred on us, the working committee of the party via Section 21.4 of the same constitution, hereby place Elder Godsday Orubebe and nine cohorts on suspension. 
 


"The suspension was triggered by series of allegations of misconduct likely to cause disrepute, hatred, contempt, anti-party activities. Orubebe and the affected nine others are hereby referred to the PDP disciplinary committee in Burutu Local Government for further investigations."