Vladimir Putin And His Wife Lyudmila Announce Split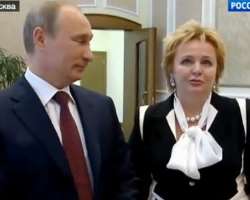 VLADIMIR PUTIN AND HIS WIFE LYUDMILA
Vladimir Putin, the Russian president, and his wife Lyudmila have ended years of speculation about their 30-year relationship, admitting that they had decided to end their marriage.
In a stilted – but clearly staged – interview on Russian state television after a night together at the ballet, the couple said they had agreed to a "civilised break-up" because they barely saw each other. It appeared that a formal divorce had not yet taken place.
The announcement will likely only fuel speculation about Mr Putin's private life. The 60-year-old Russian president has been dogged by rumours for years that he had an affair with Alina Kabayeva, a 30-year-old politician and former Olympic rhythmic gymnast, although no hard evidence has ever been presented to confirm that.
The Russian leader and his wife, 55, spoke after attending a performance of La Esmeralda – a ballet inspired by the story of the Hunchback of Notre Dame – at the State Kremlin palace, their first public engagement together since his returned to the presidency in May last year.
Mrs Putina appears only very rarely in public. She was said to be living far away from the Kremlin, in a £1m state-owned retreat on the border with Estonia. Some reports even suggested she joined a convent.
TELEGRAPH UK