OUR SEX LIFE IS STILL HOT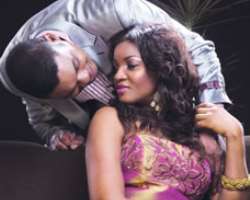 http://www.nigerianbestforum.com/blog/wp-content/uploads/2010/02/omotolahus.jpg Photos by Kelechi Amadi Obi/Family magazine
When they got married in an aircraft 14 years ago not a few expected the marriage to crash. An actress and pilot couple is a tricky combination. But against all odds, Captain Mathew Ekeinde and star actress, Omotola Jalade Ekeinde are still very much in love and the marriage is waxing stronger. Captain Matthew spoke to us on the marriage and their Valentine experience.
What does love mean to you sir?
I don't think somebody has ever asked me that question; nevertheless, I think love means where you heart is, and where your heart is, is where you concentrate your energy. Love is giving your best to the ones you love.
Is Valentine's Day of any significance to you?
My brother, all this Valentine thing does not make any difference to me. I don't have to wait till it is Valentine to buy my wife a car or buy her a gift or let her know how much I love her. I do these continuously and it's part of me. I think Valentine's Day is just a day set out by white men to do something extra-special which is usually not the case. It is a day to look back on your love life with your partner and see ways you two can improve, what you can add and what you can do without. For me, it's no big deal because there is nothing I'll do to my wife on Valentine's Day that I haven't done to her on a normal day.
Are you sure this is not your own way of dodging Valentines gifts?
(Laughs) It's not my way of dodging; it is just the way I am .But she'll surely get her gift.
So, where are you spending Valentine's Day?
To be honest with you, I don't even know because I might not be in the country by then .I am supposed to go for a training course. Secondly, she is actually doing a recording, so I am not really sure if she is going to be around but if we are both around, I might take her out or do something extra-special for her. I know she likes Chinese food a lot, so maybe I'll take her to a Chinese restaurant but I don't think I am going to travel far because of Valentine's Day.
Are you buying her any special gift?
(Sighs) Well, I have been thinking of buying her shoes and bags because she loves them, so I'm going to buy her shoes she has never had before but she doesn't know about it.
What is it that you cannot do for love?
I can't commit suicide (laughs). I can do anything for love, but I don't think I can commit suicide for love.
How long have you been together?
This year marks our 14th year.
How have you been coping for 14 years with a celebrity?
First of all, I think it is God , because a few people have asked me that question and I have searched over the years and I've come to know that if she was not my God- given partner, I can guarantee you that we wouldn't still be together today and that is the problem with a lot of married couples especially the pilot and the entertainer. If you want to compare those marriages that are not God approved, you'll see that they don't last a year talk less of 14 years. So, if I'm opportune to preach to singles, I will tell them to wait for their God-given partner because if they don't wait, they'll always fall apart. She (Omotola) is my God -given partner and that is why we both can tolerate each other and be patient with one another.
Some people say to build a working marriage, you should play the fool or you need to be a fool. Sometimes, do you play the fool?
No, because I think we are open and honest with one another. I get the feeling that my wife travels much more than I do and I've never had to fear whether she is cheating on me or something. I trust her with the whole of my heart, 100%. So, I don't play the fool, there is no need for it. I believe I am straight forward with her and I believe she's straight forward with me.
Are you saying that it has never crossed your mind that she may be cheating?
No. I don't think about it.
But is it possible not to think about things like that especially when you are married to an actress?
When I say I don't think about it, I mean, even when the thought comes, I just change channel. It is like when you are watching the T.V. and you switch to a T.V. station but don't like what they are doing, you just change the channel to another station to see what might interest you. So, when the thoughts come, I'm like, it's not possible and I change my mind and concentrate on something else or do what I have to do.
What is it that your wife can do that you can never forgive her?
If she cheats on me, I'll never forgive her.


•Photos by Kelechi Amadi Obi/Family magazine
But someone said, you have caught her once and have forgiven her.Is this true?
(Laughs); That's the press for you. For the past six years now, there is this rumor that has been spreading, they alleged that we were no longer together. In fact, when I went to Germany last year to do some things on our aircraft, I met some Nigerians there and they said, 'Oga, why did you leave your wife now? We heard that you are now married to a white woman and she has a child for you'. I was dumbfounded by this statement and I had to tell them it wasn't the truth. We still get emails and phone calls up till date asking why we separated and stuffs like that. So, it is not true. I have never caught my wife cheating, there has not been such experience.
Recently, some newspaper had it that she wanted to go for breast enlargement; I just don't know where people get these stories from. Some people just sit down, write a story and publish it on the net, waiting to see how people will react. My wife does not have the intention of doing breast enlargement, neither have I caught her in any unfaithful act. They are all rumors.
Are you beating your chest that your wife has never cheated on you?
I am not only beating my chest, I'm beating the back of the chest too. (both laugh)
Somebody once alleged that you are a flirt, is this true?
Have they caught me before? If I am a player, that means I am a regular player and if I am regular, I am bound to slip once if not twice. So, if they think they've got evidence, they can show it.
Are you saying you have been absolutely faithful?
I have been trying my best. No one is perfect but I am trying. There is nobody that doesn't get tempted. I am sure all married men had instances where they see a pretty lady and they wished they weren't married but the next step you take after the temptation is what distinguishes you. My wife is not the only pretty woman in Nigeria. I have had instances where is see pretty women and I am like, I wish I had this one. It's a thought, so, I just move on and get it off my head.
Can you tell us about your love story so far?
Our love story so far has been great though it's been quite challenging. Challenges especially from the press about things they write about her but like the bible says, those who know their God shall never be shaken like Mount Zion. So, for me, I know my wife and my wife knows me and like I said earlier, I trust her with everything I am. When these issues come up, we talk about it and we move on. Our love story so far has been good and I know a lot of people look up to us. So even when we don't have any other reasons, we'll stay together because of the people that look up to us.
How did you meet her and how did the loving start?
I met her in church. My immediate elder sister introduced us because I was ready to get married. Then my sister said, there is this cute girl in my church, although, she is a bit young. Tola, was just sixteen (16) and I was twenty-six (26). So, she invited me to their Wednesday service. I got there from work around 7:30pm when the service was up and I met her there. We were friends until she turned eighteen (18), but I have always liked her but I wasn't really interested because of her age. When she turned eighteen, I saw her from another perspective and that was when I told her I was going to marry her. At first, she thought I was joking, so I went behind her back and told her mom because during our two years of friendship, I have known her mom very well.
So, you went to church looking for a wife?
(Laughs) No. I didn't go to church to hunt for a wife, I went to church to meet Tola because my sister wanted to introduce her to me. So, I didn't go to church hunting for a wife, rather, I went to church to meet Tola. To me, hunting for a wife means, to scan all the women in the church and finally pick one. I didn't do that, I was only there to meet her.
How has it been with the press? Has any of those reports gotten to you?
Some of them give me cause for concern. I just wonder why people would go out of their ways to imagine things, just like the recent one that has been going on both in the papers and on the internet that she is going to New Jersey to go and do breast enlargement so that she can compete with Mercy Johnson. I don't know why people will just sit down and come up with such a story, I don't understand. It amazes me.
Have you seen anything that made you call your wife to ask questions?
Yes, when she played in the movie, Prostitute. That was the film where they showed a purely naked woman with her nipples, her buttocks and all that. She didn't know and we bought the film like any other person and watched it. When I saw it, I asked her 'what is this! That definitely can't be you'. Of course, I know my wife's breast and my wife's body and what I saw was different plus the person was a lot darker in complexion. Immediately, she called KINGSLEY Ogoro, who was the producer, and she said, 'Kingsley, you never told me you are going to show something like this, why did you do that?' I also spoke to him and I told him it was unprofessional, to deceive your artistes after you have finished a movie.
Aside the movies, has there been any other thing that made you ask her questions?
No. There have always been rumors. A rumor had it that my wife wanted to do breast augmentation because she was dating Desmond Eliot. They said, Desmond did not like the size of her boobs, that they were too small, that he wants it like Mercy Johnson's. So, that is why Omotola wants to go to New Jersey for breast augmentation so as to satisfy Desmond Eliot. (Laughs) I am sick of their rumors. They once alleged that she has gone out with RMD and some producers. One of the things I enjoy about the rumor is that, when they will report the truth, it will be too hard to believe. I have come to realize that most of the stories they write have no substance.
Does it cross your mind that it could be true ..?
No. Tola has been very fortunate with the press. They started writing anything after six, seven years of our marriage. She never got any negative story from the press during our first six, seven years. When it started, of course, I was concerned but I later got to understand that, they write these things because they are looking for what to write and if you are in the public eye, they will try to trump-up something that is not true about you to make the headlines. So, initially when it started, I was worried but when I investigated and found it was without substance, I just didn't worry about what they say. They can say she's sleeping with Yar'Adua, for all I care, it doesn't bother me.
So, there is nothing they will say that will shake your marriage?
Nothing, though they have tried. If you have been in this media business since ten years, you'll know that they have tried. There is no kind of story that they haven't tried. I try to buy every magazine that has her story, either good or bad. I wonder why they continue to try.
Why did you decide to get married in the air?
Oh, excellent; that was my idea. I told her and she complied. We've always wanted to do something different and in the uncommon way. If you'll remember, I was the first to start using a personalized plate number and she was the first in the industry when I bought her a brand new car .The number plate was 'OMOTOLA1'. A few months after I bought her the car , Saint Obi bought the same car and used 'SAINT' as his plate number. I like to do my things in a unique way; I mean, everybody goes to church to get married, let's do ours differently. Luckily for me, I was able to convince the MD of the Israeli airline (Sky Line) that I was working for then and I told him that it would be a marketing medium for airlines because I know newspapers and television will cover it. So, we got married because we wanted to do something different.
There is this tendency for one to be married and the love fades, when you get to that stage, what do you do to renew your love?
The good thing about it is that it is God's doing. Don't forget that it is not your doing that makes a marriage work. You do 10% and God does the rest because if you are married to your God-given partner, there's nothing that can break you two up, nothing. Not only that, you need to be strong in the Lord as well. There are a lot of people that have gotten their God-given partner but they have allowed the devil to come in to scatter it. So, spiritually, it is God that is renewing it. Of course, there are times I don't feel like I am 100 percent in love, but it happens once in a blue moon and for just few minutes. I mean there are times I see her maybe after taking her bath and I still get turned on and she'll say 'oh boy, you no dey tire? After fourteen years your blood is still pumping' (Laughs). For me, I am not tired at all and the good thing is that she keeps her figure and that was why I gave her the nickname because the first car I bought her was 'OMOTOLA1', the second was 'OMOT' and third one, which is the Jeep, is 'OMOSEXY' because she has got this sexy figure that is a turn-on for me.
What do you do to renew the love when you have a down moment?
I don't do anything.
Some people will go on vacation or do away with the kids, what you do think?
I don't think that will renew anything. It is all in the mind. It's your mindset that matters. For example, If you and your wife are having a misunderstanding, especially during this Valentine period, and you took her to Dubai for a day, will that bring the love back? I don't think so. If you guys were fighting from home and you had to go to Dubai because you have booked the flight like two weeks before the day and you go, do you think because you are travelling now, you guys will come back? No. So if your mind is programmed to always love your wife even when she is wrong or when she's not happy, you'll have a good home. I don't know how to keep someone in mind, so when you offend me, I tell you immediately and it ends there, I learnt that from my dad.
Have you had a serious quarrel before?
Ah, I can't tell you that.I can't tell you that, you can talk from now till next year laye, I can't tell you that.


•Photos by Kelechi Amadi Obi/Family magazine

I noticed that the children are in the boarding house… are you not scared that they might imbibe foreign values?
No, my kids are in a very good school and their school is costing me a lot…a beautiful school that they treat them like an ajebo. Too much of an ajebo self and they are here in Nigeria. It's a private school and we see them once every month. It is just the last one that is with us because he is not old enough to go to secondary school.
Has sex actually become boring for you and your wife?
If I tell you this you may not believe but God is my witness, 14 years on sex with my wife is not boring, you can understand why I could dig deep to give her that name omosexy. When you find something sexy can you be tired of it? You see the same appetite a man has to look for different women because they are bored with one, is the same appetite I use in looking at her all the time . That is why I gave her that name and like I said she has managed to keep her figure even after four children …she is looking more gorgeous. That is the truth my brother.
So despite the fact that you said it is not boring, why do you get tempted and you still fall sometimes?
Well I don't fall, if you say I have fallen that means I'm done but I have not fallen.
So you've not fallen to the hands of another woman?
No.The bible says resist the devil and he will flee.
Sometimes you see the devil and you don't want to resist him…
(Laughs) I agree with you my brother, that is why I said for me the way I have decided to handle it is that when I see them I think… yes you can admire but I move on. By the time you stay concentrating on looking at the woman and you are admiring her and by that time you know you are lusting after her, before you know you are tempted to say 'Hi'. That is where the problem is but if you discipline yourself, there is no crime in admiring a girl after all, when we go out, she'll say, 'men that guy is fine o' and I'll say he's a fine guy. So, for me, that is the way I have trained myself to deal with it; I admire and I move on.
Has money been an issue before because your wife once said that romance without finance is not sweet, what's your take?
Well, she can say that now because I am there buying her all the cars. (Laughs) If I didn't have the money to buy her a thing, I don't know what would have happened; but then, she's a well brought up child; there is no woman that doesn't like to be pampered, there is no woman that doesn't like money, there is no woman that wants to suffer; but I thank God that we are both independent. In fact, it is one of those things we've never argued about from day one. Sometimes, when we talk about it, I call her attention and say, 'OMOT'; you know we have never argued about money? The reason is simple, my salary and my allowances as a captain is paid into an account that she has access to and her money is also paid into that account. So, what we do is that, whatever project we have, either to build a house or buy a car, travel abroad and stuffs like that, we'll put it in our monthly budget and if the money we have in the bank is not enough to cover to budget, we sit down and sort out things we can eliminate or carry over till next month. So, we do it together and that is one reason why we have never quarrelled over money matter. We are open to each other, we know how much we have and then we do things together and that is where some people have problem.
Do you maintain a joint account?
Yes. All our joint accounts and current accounts, our shares, our house, our cars bear our names, Matthew and Omotola Ekehinde.Yes because we have learnt and by God's grace, we watch T.V. programmes and we hear what's happening. It has been in my upbringing because if you are open from day one, there is nothing that can bring you back.
Do you foresee anything breaking your marriage?
Only God can and I am sure He won't because the Bible says 'what the Lord has joined together, no man should put asunder' I trust my wife to the extent that, even if she's in bed with a man, naked, nothing can happen. (Chuckles)
When did you put that thing there?
I will not tell you, when you see God, you ask Him. She can go anywhere in the world, act a nude film, of course, she can never act nude, but just for the sake of argument, if she's in bed, naked with seven men, nothing can ever happen; that is how confident I am.
It started from day one. She knows; it is just like saying, if you eat this thing, you will die, so if you don't want to die, will you go and eat it?
What is your advice for married couples?
Well, the first advice I have for them is that, they should stick to the Lord; they should continue to have the fear of God in them. God will show you how to treat your spouse, how you guys can live in harmony, how you can raise your kids, how to relate with your relatives. So, the first thing any person that wants to get married should do, is to seek the face of God because marriage is a life-long thing. So if they can observe a three- day fasting and prayer session and have their Pastors pray with them they will succeed. Once they can pray and God gives them the go-ahead they should proceed. Also, they both need to be disciplined because the devil is always at work, they must learn to resist temptation.