Mark: 'Rookie' Managers Handling Nigeria's N2.9Trn Pension Fund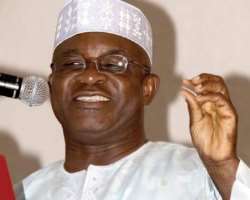 ABUJA, May 28, (THEWILL) – President of the Senate, David Mark, on Tuesday, declared that many pension managers operating in the country are 'rookies'.
He lamented that the development is fueling deep-rooted corruption that is bedeviling the pension fund administration in Nigeria.
Mark spoke against the backdrop of the Senate report which puts the accumulated pension fund in the country at N2.93 trillion as at September 2012.
Mark's observation came as the Deputy Senate President, Ike Ekweremadu, called for a constitutional review to remove pension matters from the exclusive list and place it on the concurrent list to allow inputs from the federal and state arms of government.
All these were the major highlights of the Senate debate on the Pension Reform Bill 2013 which was unanimously passed for second reading.
The Senate Committee on Establishment was detailed to carry out further legislative work and report back to plenary in four-weeks.
Sponsor of the Bill , Senate Leader Victor Ndoma-Egba (SAN), told lawmakers that the extant pension laws are full of inadequacies evident in recent shocking details of pension fraud uncovered by several legislative probes. He called for proper channeling of docile pension funds to financing infrastructural projects and creating employment opportunities in the country.
According to Ndoma-Egba, "Even the Pension Reform Task Team (led by the sacked Abdulrasheed Maina) set up to bring some sanity to the system and ensure that pensioners received their pensions as and when due, rather worsened their plight and ended up with confounding sleaze, corruption, degeneracy and stealing so much so that the 'Team' has become a euphemism for kleptomania."
.
On his part, Mark emphasised the need to properly train and supervise the pension fund managers even as he called for investment of the pension funds on infrastructure instead of leaving the funds idle for people to embezzle.
"I think the problem we've had is that we have all sorts of rookies. People who have no idea about managing funds, not to talk of very huge pension fund go to manage our pension fund. And I think it's a very specialised area where you cannot just wake up tomorrow morning and be appointed to manage the pension fund. You will mismanage it. That's what I suspect has happened.
"Secondly, I think that applying it (pension funds) for infrastructure is very important. At the moment, because it is not properly managed, we can't do it. Otherwise this huge amount of money just sitting down there does not make sense for anybody even for laymen like me who are not economists. We think that this money could be usefully invested or channeled to a better use so that the nation can benefit. We cry of lack of infrastructure all the time while there is so much funds sitting down there idle for people to embezzle," he said.