What Achebe Told Us – Kalu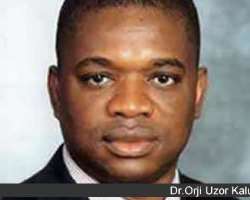 Former Abia state governor Dr. Orji Uzor Kalu took time off Thursday to reflect on the lifestyle of late Prof.Chinua Achebe whose remains was comitted to mother earth in his Ogidi ancestral home.
Kalu explained that even in death many Nigerians would have seen the real Achebe,a fact many politicians chose to downplay while the man was alive.
The ex-governor said,"Achebe has left us with a parting message,that he was indeed a rare Nigerian,an Igbo whose best friends were Yoruba and Izon,an in-law to the Yoruba,a writer who once pleaded for a Northern army officer that fought against the Igbo during the war."
Kalu continued,"Achebe,Wole Soyinka and Bekederemo Clark were fond of themselves.I am sure now that those uninformed critics who saw him as anti-Yoruba would have covered themselves in shame when they saw his son-in-law,Prof.Ogundimu.During the civil war,Mamman Jiya Vatsa fought in the tough Uzuakoli sector,yet when he was condemned to death in 1986,Achebe was at Dodan Baracks, Lagos begging that the General be spared.Vintage Achebe."
On Achebe's relationship with Soyinka,Kalu defended the Nobel Laureate,insisting that those who often backed or attacked him were unaware of the strong bond between the duo.
"Achebe and Soyinka spoke with one voice most of the time.They condemned genocide,pleaded for Vatsa and prayed for a better Nigeria. Ignorant people only tried to use the Nobel prize to separate them.Infact,Soyinka did not have to bribe anybody to win the Nobel thing.Prior to 1986,he condemned the 'Hollywood razzmatazz'that sorrounded the whole show.At the same time,Achebe won several awards.Not winning the noble did not take anything away from him",Kalu added.
He likened the perceived rivalry to what transpired in the Eagles camp in 1980 between keepers Emmanuel Okala and Best Ogedegbe."Many did not know that Okala and Best shared the same room in camp and the former even coached the latter before and after every game,while their fans read tribalism into it all.Ogedegbe admitted in 1993 that Okalla was better than Best",Kalu said.