Militants Release Seven Egyptians Kidnapped In Sinai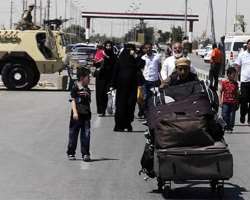 Seven Egyptian security men kidnapped by Islamist militants in Sinai last week were freed on Wednesday and President Mohamed Mursi vowed to pursue a crackdown on lawlessness in the desert peninsula.
The abduction underlined the threat posed by jihadists who have exploited a security vacuum that opened up in the isolated Sinai after the 2011 uprising that toppled Hosni Mubarak. The state has struggled to restore order there since.
The militants have launched attacks on Israel and targets in North Sinai, where security problems have been exacerbated by a flow of weaponry smuggled from Libya. An Israeli defense official, speaking after the release of the seven, said it was vital that Egypt succeed in crushing terrorism.
"I call on everyone in Sinai who has weapons to turn them in. This nation is bigger than all of us and weapons can only be in the hands of the government," Mursi said after greeting the ex-hostages on their arrival at a military airport in Cairo.
"This is not a short-term operation that ends, and (the release of) our sons without a drop of blood being spilt is the first part of it," added Mursi, an Islamist elected last June who had faced intense domestic pressure to resolve the crisis.
Security sources said the men - six police officers and an army border guard - were freed after mediation efforts by Bedouin tribal leaders. They were released in an area south of Rafah, a town straddling the border with the Gaza Strip.
NO NEGOTIATIONS
An Egyptian presidential spokesman said the men had been released without "any bargaining, concessions or negotiations". Earlier this week, Mursi said there would be no negotiations with militants he described as "criminals".
"The perpetrators of the crime are identified and are being pursued," Interior Ministry spokesman Hany Abdel Latif said.
A security source in Sinai said the militants had decided to release their captives fearing a confrontation with the armed forces, which sent reinforcements to North Sinai this week.
The kidnappers are part of Tawhid wal Jihad, a hardline group which espouses a more radical form of Islamism than Mursi's Muslim Brotherhood. The same group is blamed for bomb attacks on Sinai tourist resorts from 2004 to 2006.
They had demanded the release of six Tawhid wal Jihad members sentenced to death last September for attacking police in North Sinai in 2011, killing seven people.
Sinai's militancy problem predates the 2011 uprising and has grown partly out of state neglect and heavy-handed security crackdowns in the past, analysts say.
A mostly desert, thinly-populated expanse separating Africa from Asia, the Sinai was captured by Israel in the 1967 war but returned to Egyptian control under the terms of a 1979 peace treaty that restricts the Egyptian military's presence there.
Concerned about instability on its border, Israel has agreed to Egyptian requests to deploy more forces in Sinai since 2011.
"Israel and Egypt coordinate as required in order to realize shared security interests, according to the peace treaty," senior Israeli Defense Ministry official Amos Gilad said on Israeli Army Radio on Wednesday.
"Israel has not prevented any action by Egyptian army."
Last month, militants fired two rockets from Sinai into Israel. They have also attempted cross-border raids. In August, 16 Egyptian border guards were killed by militants who stole an armored vehicle and rammed it across the border, where they were killed by Israeli security forces.
REUTERS