President Jonathan Says Africa Must Check Illicit Fund Flows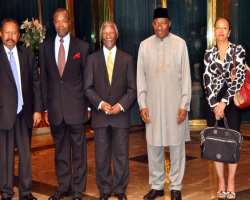 SAN FRANCISCO, May 20, (THEWILL) - President Goodluck Ebele Jonathan has said Africa must check the huge funds being illegally taken out of the continent.

The President was speaking to a delegation of the United Nations' High Level Panel on Illicit Financial Flows from Africa, at State House, Monday.

"The huge funds being illicitly taken out of Africa can solve our infrastructural and other problems, so we must look within and check this hemorrhage," he stated.

President Jonathan said Africa "needs robust assistance from the developed world' to check this outflow, because 'corruption would be minimized if there are no places to hide the illicit funds."

He challenged oil refineries worldwide to ask questions about the source of the crude they refine, and said the Administration was taking definite steps to check the theft of crude oil from Nigeria.

President Jonathan called on the Panel on Illicit Financial Flows from Africa to carry out an in-depth and comprehensive study of the issue and produce a template that will help the continent combat the menace.

He directed all relevant ministries and agencies of government to cooperate fully with the panel.

Earlier, Mr. Thabo Mbeki, former President of South Africa and Chairman of the UN High Level Panel on Illicit Financial Flows from Africa, said the continent currently loses at least $50billion every year through illicit fund flows, and the panel was determined to study the problem and propose solutions.

He said the panel would like to meet relevant members of the National Assembly, in view of the need for legislation to check this potent threat to the survival of the continent.