CJN vows to sack corrupt, laid-back judges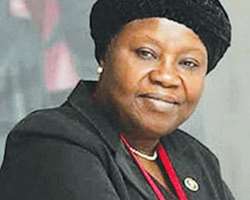 As part of her initiatives  to purify the judiciary, the Chief Justice of Nigeria, CJN, Justice Mariam Aloma-Mukhtar, weekend, maintained that henceforth, the National Judicial Council, NJC, would use its performance evaluation report to weed out incompetent and indolent judges from the bench.
The CJN who stated this while receiving 'Nigeria's Judicial Performance Evaluation 2008 - 2011,' compiled in seven volumes by the Nigerian Institute of Advance Legal Studies, NIALS, said it was ridiculous for her to discover that some judges cannot deliver up to two judgments in a quarter.
Stressing that such judges not only constitute a drain on the economy, the CJN insisted that such ineptitude contributed to the reason Nigerians complain about the slow pace of justice delivery in the country.
Justice Mukhtar said she never knew how bad the situation was until she directed all judges to seek for permission through their heads of courts before travelling abroad.
According to the CJN: 'We are now thinking of looking at the performance evaluation of the judges for the purpose of discipline. If a judge cannot deliver three to four judgements in a year, there is no use keeping him on the bench other than to be shown his or her way out.
'The Nigerian Bar Association have also been complaining about the attitudes of judges to work these days. Many will leave their work and travel abroad for days.
'This is why I insisted they must obtain approval before travelling abroad. Until this directive, I never thought things were all that bad, because some of the judges will be seeking for permission to travel abroad while the courts were in session.'