NDM, Atiku, Buhari, Support Acting President's Ascension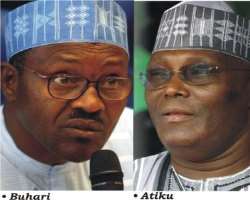 PHOTO: L-R: GENERAL MUHAMMADU BUHARI AND ALHAJI ATIKU ABUBAKAR.
Abuja Feb 18, (THEWILL) – Dr. Goodluck Jonathan's ascension to the presidency received the support of the National Democratic Movement, NDM, and its leaders including former head of state, General Muhammadu Buhari, former vice president, Atiku Abukakar and Asiwaju Bola Tinubu amongst others.
The NDM is a coalition of opposition political parties that have agreed to join forces to challenge the dominance of the ruling Peoples Democratic Party (PDP). Its steering committee after its meeting on Thursday in Abuja said the process that facilitated Jonathan's ascension was acceptable under the present circumstances but called for speedy electoral reforms to ensure that the 2011 elections are not a sham.
The group was however silent on the formation of its much expected mega party having failed to agree with other interests within the association.
The group has scheduled another meeting for Thursday next week to allow time for more consultations amongst its members on the new party.
The communiqué: "The Steering Committee notes the recent developments in the country, especially the emergence of an Acting President, even as the process is still contestable.
'"It is our hope that with an Acting President, the country will now recover from the encumbrances and face the numerous challenges waiting to be addressed.
"We wish to urge this leadership to focus on the most critical of these challenges, which is electoral reform."
On the recent Anambra poll, the group said: "The Anambra election where 83 per cent of registered voters were disenfranchised and where a governor is said to be elected by only five per cent registered voters underscores the urgency for these reforms.
"We hardly need to add the fact that electoral reform is key to the future of democracy, indeed the country itself.
"NDM calls for the immediate commencement of fresh voters' registration, so that at least we can have a credible voters register.
"Giving the fact that the next general elections are months away, the Steering Committee strongly calls on the government to fast-track and conclude the process of electoral reform."
Others at the meeting were Dr. Attahiru Bafarawa; Alhaji Lawan Kaita; Chief Olu Falae; Chief Mike Ahamba; Chief Tom Ikimi; Senator Ben Obi; Chief Dapo Sarumi; Alhaji Yahaya Kwande; and Chief Tonye Princewill.