Shettima Okays Emergency Rule In Borno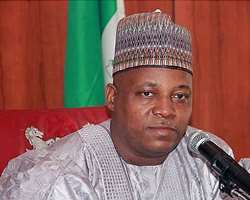 GOVERNOR KASHIM SHETTIMA OF BORNO STATE
SAN FRANCISCO, May 15, (THEWILL) – As reactions continue to trail Tuesday's declaration of emergency rule in Adamawa, Borno and Yobe States by President Goodluck Jonathan, Governor Kashim Shettima of Borno State on Wednesday said he has no problems with the decision, maintaining that no responsible leader will do anything less.
In a broadcast to the people of the state, Shettima however called on the military to stick by the instructions of the president by preserving the lives and property of the innocent Nigerians living in Borno.
"Fellow citizens, as you may be aware, the President, Commander in Chief of the Armed Forces of the Federal Republic of Nigeria, Dr Goodluck Ebele Jonathan, has in exercise of his constitutional powers, declared a State of Emergency in our dear State, following the spate of killings and destructions of properties, that have pervaded us. It is the constitutional responsibility of the President to take such measures. It is also the duty of any responsible State Government to support lawful efforts that would guarantee the security of lives and properties. It can never be the wish of any guarded democratic government to have the military directly involved in the affairs of any federating unit except for unfortunate and painful causes.
" As the military leaders have said in discourses, the armory of the Nigerian soldiers is not meant to fight fellow Nigerians, the armory is meant to protect fellow Nigerians.
"A human life is sacred, more so, the life of every good Nigerian, no matter whose' it is; and we all have moral, spiritual and social obligations to preserve and respect the lives of one another as we would want ours to be so preserved and respected. Allah has said emphatically in the Holy Quran that he has dignified every human being, He has placed high premium on the sacredness of human lives and as His dignified creatures; we should obediently respect the lives of fellow creatures.
"Let us be our brothers' keepers, hold our arms in the true Borno spirit that we were hitherto known for, so that we rise together as one people with shared passion for our collective progress. We are facing a trying time that I believe without blind optimism, that we will overcome in no distant time bi iznillah," the Borno governor stated in his broadcast.
Shettima however insisted that the best strategy to fight the insurgency is provision of jobs.
"The best way to fight crime is to provide jobs through integrated agriculture and other industrial growth. We are very conscious of the fact that there is mass poverty and unemployment and as you may have confirmed from our ongoing programmes across the State, we are creating jobs and we will continue to do.
"A period of State of Emergency is that which comes with rules that are different from those that guide our day to day lives. We must therefore, take personal steps as citizens, to avoid being caught by the strange rules," he said.
Shettima also urged everyone to fervently pray for the return of peace in Borno State and in all other parts of Nigeria, to pave the way for rapid recovery and the socio-economic transformation that is so desperately needed.