Blackberry Extends BBM Messaging Service To Apple And Android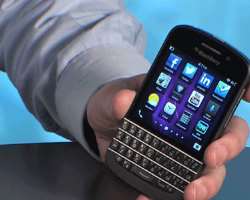 iPhone and Android users will gain access to mobile giant BlackBerry's popular messaging service BlackBerry Messenger (BBM) for the first time this summer, the company has announced.
More than 51 million BlackBerry users communicate daily via BBM, one of the earliest mobile chat tools to give users a free and private means of staying in touch over the internet.
Andrew Bocking, an Executive Vice President at BlackBerry said in a blog post: "For BlackBerry, messaging and collaboration are inseparable from the mobile experience, and the time is definitely right for BBM to become a multi-platform mobile service.
"BBM has always been one of the most engaging services for BlackBerry customers, enabling them to easily connect while maintaining a valued level of personal privacy. We're excited to offer iOS and Android users the possibility to join the BBM community."
BBM will compete with other free messaging services already available to smartphone users running the iOS and Android operating systems, including WhatsApp and Viber.
The necessity of a personal PIN to use BBM, supplied with BlackBerry's phones and shared only with contacts with whom users wish to communicate, is one of BlackBerry smartphones' most attractive aspects.
UK TELEGRAPH